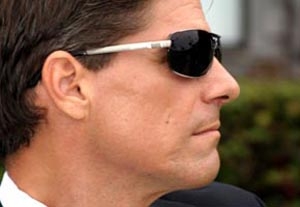 "How much of human life is lost in waiting?" That's a quote from Ralph Waldo Emerson, and the truth behind those simple words can easily be applied to the business of acting. Actors send submissions to agencies and wait for a response. They go on auditions and wait for a callback. All of you are always waiting, hoping for some good news that might advance your career. There's nothing wrong with that. Waiting is a basic component of this business, and that applies to all of us, including yours truly. But it would be a major mistake if you didn't offset all that waiting with a little forward momentum of your own design. I'm talking about creating your own opportunities, the kind of opportunities that will allow you to express yourself creatively and might possibly advance your career.
Vanessa Claire Smith is a talented young lady who moved to Los Angeles from the Big Easy. Like most actors, she quickly discovered there was nothing easy about becoming a working actor in Hollywood. So she turned to the stage and started delivering one amazing performance after another, eventually winning the LA Weekly Award for best leading female performance, an award she won for playing the male lead in "A Clockwork Orange." Despite that critical acclaim, Vanessa still wasn't able to make a living as an actor, so she decided to follow Joseph Campbell's advice: She decided to follow her bliss.
Being from New Orleans, Vanessa always had a great deal of affection for the city's native son Louis Prima and his singing partner Keely Smith. So she fired up her Mac and wrote a musical about the duo, knowing full well she was born to play the famous singer. Vanessa then searched the theater circles she had gotten to know so well over the years and found a gifted performer named Jake Broder, who she realized was born to play Prima. The two teamed up and mounted their little play in a black-box theater, where it attracted an insane amount of attention, allowing them to move to a bigger space, where the show drew larger audiences, rave reviews, and the attention of feature film director Taylor Hackford.
Long story short, "Louis & Keely: Live at the Sahara" has been enjoying a sold-out run at the Geffen Playhouse since March, and it's sold over $1 million in tickets. Vanessa and Jake are now considering several offers to go on tour, and they'll probably end up in New York. Vanessa has become a successful actor because she got tired of waiting and decided to create her own opportunity. (If you want to learn more about the show, go to www.louiskeelyshow.com.)
Teal Sherer is another talented actor who knew she wasn't going to get anywhere unless she took matters into her own hands. You see, Teal is a beautiful young woman who happens to be in a wheelchair. Disabled actors have always had a hard time in this business, and Teal knew the odds were stacked against her. So she decided to do one of the toughest things an actor can do in Los Angeles: She started her own theater company, a company that would focus on disabled actors doing good work.
As a result, Blue Zone Theatre has already mounted two well-reviewed shows, and it's currently working on a production of the award-winning play "Proof," set to open after the holidays. It's become the little company that could, allowing disabled actors to play parts they rarely get to perform in film or television. I've seen every Blue Zone show, and I'm very proud of what this gifted woman has accomplished in such a short time. (If you want to learn more about the company, go to www.bluezoneproductions.com.)
I challenge all of you to follow these two wonderful examples and create your own opportunities. It sure beats waiting and waiting and….