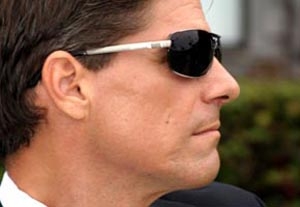 I have some fantastic news for any actor who's thinking about moving to Los Angeles. Thanks to a grant from Gov. Schwarzenegger, the city has just established its very first halfway home for actors who are in the process of relocating. It's called the Welcome to Hollywood Home, and I'm proud to say that I personally had a hand in creating this terrific facility.
The campus includes an air-conditioned dorm, an up-to-date library with every book ever written about show business, and a relaxing meditation pond packed with those colorful Japanese fish. Stays will be limited to 90 days, which is just enough time to transition you into our action-packed metropolis. And there's even better news: The service is 100 percent free. Any actor wishing to stay with us will simply have to perform a two-minute scene from any famous movie (sorry, no plays) for a panel of three industry judges. Last week we had Gary Busey donate his time. How great is that?
You're probably wondering why a busy guy like me took the time to build this welcome mat for new talent. My reason is simple: Over the years, I've seen transplants make the same mistakes over and over. They wander the city, dazed and confused, with no clue on how to get started. Writing this column has helped me reach out to those lost souls, but I've always felt that I can do more. And now, my dream has finally come true.
Our beautiful campus was designed by a guy who knew Frank Lloyd Wright, and it can be found in the hills that overlook the Hollywood Bowl. But if you decide to stay with us, sorry, you won't have time for concerts, because you'll be too busy enjoying all the free classes we offer our residents. Here are a few fun examples:
On Monday afternoons, you can attend language class in Gibson Hall. The professor will teach you how to correctly pronounce street names like Cahuenga and Sepulveda. He'll also explain the importance of using the correct industry lingo. In this town, we read "the trades," actors "pre-read," and only rubes say "casting agent." You'll also learn that "theatrical" means film and television, not theater. Some writer whose name I can't remember was right when he said words are everything.
If it's Wednesday morning, it must be time for some free coffee and Geography 101. This fun class is held right on the streets and freeways of our beloved city, which is anything but a city. You'll visit the Valley and discover why it's always so hot there. You'll also learn the mysteries of San Vicente Boulevard. And on the last day of class, the teacher will present you with important pamphlets like "Vegas Is
Not
as Close as You Think" and "The Dangers of Mexico."
Fridays at the Welcome to Hollywood Home are devoted to industry intensives. Held in the Clooney Building, these workshops are hard-core introductions to the harsh realities of the entertainment industry. During the first session, you'll be strapped into a comfy chair while your eyes are held open by metal clips. Then you'll watch a five-hour film in which every single agent in town looks into the camera and repeats the following sentence: "You're not ready for an agent." This is our way of teaching new arrivals that finding representation should be the last thing on their minds.
Other classes you might enjoy include The Art of Taking Pictures That Look Like You, Don't Lie on Your Résumé, and Never Shake a Casting Director's Hand.
As you can see, the city of Los Angeles is proud to embrace all of you with open arms. We can always use a few more good actors, and I personally look forward to all your colorful submissions. So welcome to the land of warm winters, and don't forget to bring a suitcase full of talent!