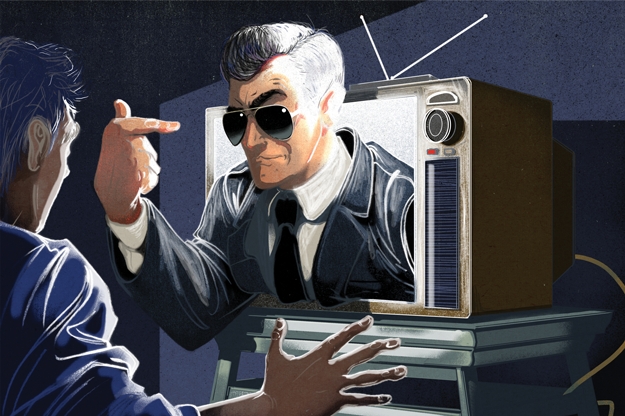 Believe it or not, I still subscribe to TV Guide. It's an old habit that's hard to break. I love holding the magazine in my hand, and you can't beat the fall preview issue. That's the one with all the articles and predictions about new shows. Trust me. It's a fun read.
When you look back at the last few preview issues, a striking fact jumps off the page. A lot of movie stars have shifted their attention to the small screen. Naturally, I'm not talking about Brad Pitt or Amy Adams. But if you go down a tier or two, you'll find several big names who are now employed by network and cable television. Why? There are several reasons: the creative challenge, steady work, impressive paychecks, and a schedule that allows a film or two during hiatus.
So let's take a closer look at some of the familiar names that have recently signed on as series regulars.
First, say hello to Kevin Bacon. He's the star of yet another crime series on Fox called "The Following," produced by Kevin Williamson. I haven't seen the show yet, but I'm willing to bet they're not reinventing the wheel. So why is Bacon on board? Why didn't he hold out for the next "Mad Men" or "Breaking Bad"? The answer's simple. They're paying him a whopping $175,000 an episode.
If the show's successful, the studio will produce about 22 episodes a year. That means our boy will be making just over $3.8 million for about nine months of work, and that number goes up when you factor in residuals. Not too shabby, huh?
But here's the thing. As far as I'm concerned, Bacon made the wrong choice. Sure, he's getting paid well, but I say he could've picked a better project. The show's creator is the producer who gave us "The Vampire Diaries" and "Dawson's Creek." Something tells me "The Following" isn't going to win any Emmys next year.
Now let's shift our attention to Dennis Quaid. He also signed on to a new crime series, but his choice is a little more promising. Quaid picked "Vegas," produced by Nicholas Pileggi, the guy who wrote "GoodFellas" and "Casino." When you think about it, this show is nothing more than a procedural, but it has style and I love the period setting. Also, Neo's girlfriend is in the cast, so how bad can it be?
For his work on "Vegas," Quaid is receiving $150,000 an episode, and that includes a producing fee. So he's actually making a little less than Bacon, but I'm willing to bet his show will be around a lot longer. Time will tell.
Other movie stars have chosen to take their talents to cable. I can't say I blame them. The programming represents a new golden era of television. Just look at "Game of Thrones" or "Boardwalk Empire." And comedies like "Louie" and "Girls" prove that the best half-hours are heading to cable too.
Besides the creative opportunities these shows offer, the money is just as good as on network TV. Jeff Daniels makes $150,000 an episode for "The Newsroom," and Claire Danes earns $110,000 for "Homeland." On the half-hour front, the talented Don Cheadle is pulling down $150,000 for "House of Lies."
Now let's talk about you, the actor who's looking to book his or her first series. You won't make as much as these people, but I guarantee you won't go broke. Newcomers can expect to earn at least $10,000 an episode for a show on MTV, and that number doubles if we're talking about network television. Toss in residuals, and you've got more than enough money to pay for those hard-copy headshots that are collecting dust in your closet.