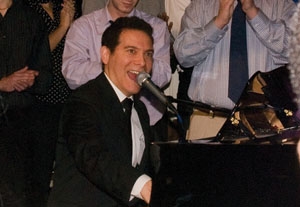 The most compelling aspect of the master class that Michael Feinstein recently taught at Five Towns College in Dix Hills, N.Y., was that by the time the two hours had elapsed, he had encountered—and made strides to correct—just about every problem faced by not only new but seasoned singers.
Affable and amusing, as he always is on the bandstand, and consistently complimentary, Feinstein was there to help shape up eight wannabes taking a course taught by the singer La Tanya Hall, who performed behind him during his annual Christmas show at the New York club that bears his name, Feinstein's at Loews Regency. As this observer can attest, Feinstein was right to praise the participants for the quality of their voices and was also right in his introductory remarks to say he was there to assess their "truth in expressing the music."
Awarded an honorary doctorate in music by Five Towns in November 2008, Feinstein was astute in pinpointing, within the 12 minutes allotted him after each presentation, the peccadilloes that came to light as the performers delivered their songs. Leaping up from his front-row-center seat in the large auditorium, he instantly bestowed whatever kudos he felt appropriate and then proceeded to his comfortably couched suggestions—all of them worth reporting.
A female student who sang Gene Lees and Toots Thielemans' "Bluesette": After mentioning her being "pitch perfect," Feinstein said, "Think about when to breathe. You're breaking in the middle of the thought. What's the emotion? Let go of the thoughts about how [you're] making the vocal sound. It becomes a crutch. Try finding ways to build the emotions of the song." As he did frequently, he turned the criticism onto himself, declaring, "I'm still learning how to become relaxed with my body." (As she did occasionally, Hall added a comment, advising, "It's not about the music.")
A male student who sang Ira Gershwin and Kurt Weill's "My Ship": Noting that there was "nothing technically out of kilter," Feinstein went on to ask, "What do you think of when you sing the song?" The reason for the query was clear: Feinstein hadn't detected too much thought behind the rendition and therefore—Ira Gershwin maven that he is—gave a short background on the song. "Focus is very important in every song," he said. "You're giving more to the people." Because the song's tempo had been slow, he said, "You can take all the time you want."
A female student who sang Ira and George Gershwin's "Someone to Watch Over Me": This student's nerves kept her from remembering the opening lines. Ready for that, Feinstein said, "Whatever happens in front of people, diffuse it. It gets them on your side." A friend and fan of Rosemary Clooney, he talked about her approach, noting how interpretation of the Great American Songbook has evolved over the decades. He had the student recite the lyric without the music, explaining, "This is a song of desperate need. There's so much in every line. See all the possibilities."
A male student who sang Alan Jay Lerner and Frederick Loewe's "Almost Like Being in Love": Feinstein first congratulated him on his "dynamics." Addressing the singer's nerves, Feinstein said of himself, "I disguise my tension." He pointed out, "You're moving a lot and it's counterproductive," instructing the singer to "plant himself" before he began, and added, "Allow yourself to get lost in the music." When the singer shied away from the top of his range, Feinstein joked, "If you're not going to use that note, can I buy it from you?"
A male student who sang Ned Washington and Victor Young's "My Foolish Heart": This was another ballad taken slowly, about which Feinstein said, "When you do a song ad lib like that, you can take a lot of time." Asking the singer to take it again (as Feinstein did with all the students), he advised, "I want you to get more out of the words. Visualize it as you sing it. Sing the song taking every line and every thought as if you're selling it to someone."
A female student who sang Lorenz Hart and Richard Rodgers' "Bewitched": Referring to some well-chosen liberties the singer had taken with the tune, Feinstein stated his appreciation and pointed out that when introducing "variations on the melody, you have to know the melody." He brought up the song's additional verses and recommended that the student do some research. He also underlined the "infinite number of ways to interpret" the lyric. Repeating the phrase "Don't I show it?," with its implication of sexual thrall, he told the singer outright, "You don't."
A female student who sang Ira Gershwin and Harold Arlen's "The Man That Got Away": Feinstein called attention to Judy Garland as the song's most famous interpreter. With that kind of precedent, he said, "All others are judged by it." Then he added, "Anyone who sings it has to make me feel a heart is broken." He pounded his chest, saying, "I want it to come from here." Repeating a tip that Garland herself gave him, he quoted her as revealing, "When I want to make people cry, I smile."
A male student who sang Cole Porter's "Every Time I Say Goodbye": Feinstein asked for more physicality, then explained that what he meant by that was "not moving." He wanted "more physicality on your face." "It's not about volume," Feinstein concluded, and sang a bit of the classic himself—his singing, of course, a master class in itself.