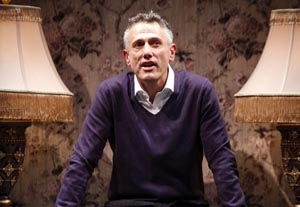 During the last few months, when New York theatergoers were offered few grade-A productions, an undisputed highlight was
David Greenspan
taking on all eight roles in the Transport Group's revival of "
The Patsy
," a 1925 comedy by
Barry Conners
that was a hit way back then but hasn't been seen locally since. According to Greenspan, artistic director Jack Cummings III approached him about doing something like this with an old piece. The specific play, he says, "was my idea."
The actor—than whom few currently plying their trade in Manhattan are busier—is recalling the play, which at most performances he combined with his own monologue "Jonas," at a quiet West Village chocolate dispensary. It's an environment where he needn't raise his voice to talk about how he used his voice to impersonate eight others five nights a week for the now-ended short run. "I couldn't have done eight shows a week," he says. "I couldn't have done two shows in one day."
Not incidentally, that qualification is the only one he makes about his feat. Quite the contrary, Greenspan—who didn't work with a vocal coach on this performance and doesn't keep an ear, nose, and throat man handy—is hardly cavalier about his voice but also doesn't indulge in much worry.
He says, "I had to strategize carefully. I didn't go out after the show. I'd go home and have hot tea with honey. During the day, I thought I wouldn't do too much talking, but you have to do a certain amount of talking. With this show, I was fine if I was talking properly." He assumes a relaxed expression and adds, "Just talking didn't bother me—as long as I'm not yelling." Then he says, "I drank a lot of water before I went on. There was no time to drink during the performance. That would spoil the illusion."
What about the voices he had to muster with his own voice, which is undoubtedly distinctive to New York City audience members? "Most of them came pretty naturally," Greenspan avows. "They came instinctively through rehearsal. They were inspired by movies from the period." He mentions "The Wizard of Oz" as one and says he turned to more-sophisticated films for the play's sophisticate. His biggest challenge, he reports, was refining the difference between the two young men vying for the heroine.
As Greenspan explains it with the soft-spoken delivery of an especially sympathetic academic, the manner in which he deployed his voice went beyond just finding a timbre for each character. He says it was also a matter of "how to shift my register at certain points, of being clear with my objectives from an actor's point of view. Any actor would do the same. I had to be diligent about switching voices at the right moment, even if the dialogue was going very fast. If you're making a clear plot point, you have to make sure it's heard." He stresses that "when I speak softer, I slow down, at least at first, to acclimate the audience to the lower volume. I try to guide the audience to adjust to the lower volume. I'm conscious of that."
Talking quickly himself, Greenspan says, "When the mother and a daughter were arguing, it's making the intentions clear. The inflection, the behavior would cue the audience who was talking. Also important was how much I could push my voice before I came to a quiet scene. For this one, I didn't want to tire my voice." He notes that "once the audience knows who's talking, heightened characterization isn't as important." He further points out that "people's voices change when they're speaking—go from higher to lower register." What he's getting at, of course, is that even the same person's voice doesn't always sound the same.
Viva the Voice
Raised in California and educated at the University of California at Irvine, Greenspan knew he wanted to be in New York City from the time he realized there was a New York City. Since he's been here, he's written, he thinks, somewhere between 20 and 25 plays and appeared in many more, often playing more than one part. Building more than one voice on his own is nothing new to him.
Among the many monologues he's concocted for himself—of which "Jonas," about one of the possible ways an actor prepares a role, is only the most recent example—are a couple he's arranged from an interest in "nontheatrical" source material. One is his adaptation of
Gertrude Stein
's essay "Plays." In it she talks about the difficulty she has taking in the action and language simultaneously while watching a play.
About a
Sarah Bernhardt
performance she saw, Greenspan reports that Stein said she "didn't understand her, but her voice being so varied and so French, I could rest in it untroubled, and I did." He emphasizes that Stein "liked the voice, the movement, the visual elements and didn't worry about what was being said. She called it 'a simple moving pleasure.' "
Another hot item in Greenspan's repertoire is his rendering of portions of
Aristotle's "Poetics."
He says of the philosopher's conception of drama, "Aristotle says something about one of the constituent parts being verbal experience. Expanded thought doesn't occur in drama unless the thought is expressed in speech." And, Greenspan says, if thought "is an important part of drama, that underscores the importance of the use of the voice in theater."