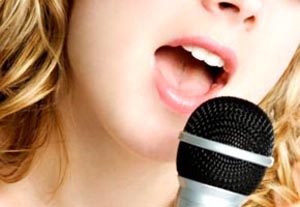 Under theater conditions, the unenhanced power of the human voice has been severely challenged since, well, probably 1964, when Carol Channing was amplified in "Hello, Dolly!," or maybe even earlier, when supposedly Anna Maria Alberghetti was aided electronically in "Carnival!." In the intervening half-century, and especially following the rise of the rock musical, microphones and accompanying equipment have become an accepted—indeed, expected—presence.
There are those, however, who insist through their work that unamplified speaking and singing remains a viable alternative. Recently, two artistic directors presented site-specific productions in Manhattan that challenged the need for technological assistance. Those enterprising events were the directing handiwork of Jack Cummings III, whose Transport Group revived Michael John LaChiusa's musical "Hello Again" in a Mercer Street loft, and Stephen Burdman, whose New York Classical Theatre produced Aphra Behn's 17th-century Restoration play "The Rover" at the World Financial Center's Winter Garden.
Not Since High School
Much of the talk about "Hello Again"—which had its cast gamboling around and on 10 tables in a quasi-restaurant setting—concerned the simulated sexual acts involving bare-buttocks displays at close audience quarters. Nevertheless, many spectators and critics also noticed that none of the performers were encumbered with microphones and
battery packs.
Correcting the assumption that there was no amplification, Cummings acknowledges that there was "just a little bit of help." At the ends of a room longer than it was wide were installed aerial mics, to make certain that when a cast member was working at one end, audience members at the other would hear. When the system went kerflooey one evening, however, no one had trouble hearing, he says.
Cummings knew from the get-go that he'd do the piece without mics—with LaChiusa's enthusiastic approval. "I detest body mics with all my heart," the director says. He also admits that when he settled on the site, he and music supervisor Chris Fenwick were on tenterhooks about sound efficiency. Only after spending some time in the space and then running the first scene, says Cummings, "did we have any inkling it would work."
Fenwick recalls that adding an audience was crucial. "That's when," he says, "we started to do the work, the 200,000 adjustments." A lot of care had to be taken with the staging: who was singing where. Both men emphasize that they were scrupulous about listening to what was happening in the room, and to that end they gave ear to the show from every angle.
Cummings and Fenwick weren't alone in their apprehension. Cummings, who never mentioned during auditions that the singers would be on their own, says, "I told the cast at the beginning of rehearsals, and they were very nervous right back at me. Some of them had never worked without mics. Some hadn't since high school." Surprisingly, though, once in the space the actors encountered little difficulty and soon relaxed, though Fenwick remarks that the director "did talk about consonants a lot."
It's important to note that the acoustic approach places demands on the audience too. Fenwick says that he wants the actor-audience equation to be "a give-and-take." As for Cummings, he doesn't mute his convictions: "I don't want to make it easy. I think audiences are underestimated. Theater will survive if we require more of audiences. Hey, we're in it together."
I Don't Want Loud
Whereas Cummings and Fenwick approached their tasks with some trepidation, only to have their worst fears quickly obviated, Burdman did his toiling with few worries. The "Rover" mounting was plunked into the cavernous indoor Winter Garden, where the ceiling seems to reach to infinity. Of what he and colleagues call "panoramic theater," Burdman says, "Through the staging technique, the audience has very little difficulty hearing our performances." He elaborates, "The venue is like a member of the cast. We don't want to transform the space by adding to it, by adding amplified sound."
To understand his successes, Burdman says, it's necessary to "look at it a couple of ways." The first is that he casts "only actors who have much voice training. I know when actors are pushing. Before Broadway used mics, actors had to reach the back row." He maintains that nowadays "there are many with that training. They've gone to good graduate programs." While he's reluctant to name those programs, he does mention dialogue coach Deborah A. Hecht, an associate arts professor at New York University, who is on call to Burdman. "I'm not looking for screamers," he says. "I don't want loud. I want to hear the music."
A second pressing requirement for Burdman is "frontal presentational style. Every actor when they speak is fully front to the audience." He points out that "in love scenes, the actors are not facing each other. Their heads and necks are up." In this technique, he says, actors who aren't speaking can give a full back to the audience. Moreover, "we know we're in these tricky venues. We're very concerned with vocal health. We don't want actors injuring themselves,
consciously or unconsciously."
Like Cummings and Fenwick, Burdman relies on audience effort and suggests, "The more challenges, the deeper their investment with the show. If they want to hear, they jockey to be in front. As a result, the audience is very, very attentive. They don't come to our shows expecting sound reproduction."
In other words, it's clear that if Burdman, Cummings, and Fenwick had their way, there would be less and less of it.