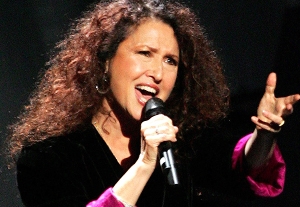 A very startling fact will be revealed about the very successful singer-songwriter and very down-to-earth Melissa Manchester at the end of this column. More-pertinent information on YoungArts' In the Studio master class, which Manchester led just a few weeks ago, will also be included before the column crosses the finish line.
For the moment, what's necessary to know is that when she says a singing career is "the bravest life you can imagine," she's addressing five students in an airy, acoustically satisfying open space at New York's Affirmation Arts. They are among 37 arts-career wannabes invited to Manhattan after being selected from 142 who were brought to Miami by YoungArts for a week as recognition of their achievements in various artistic fields.
Declaring she wants to be brief about herself in favor of hearing what the assembled singers have to offer, Manchester doesn't dwell on the autobiographical. After mentioning that her father was a musician with the Metropolitan Opera, that she had the good fortune to study with Paul Simon, and that, after singing, "I had no Plan B," she quickly segues to general tips.
She starts with a large statement about "such gifts that the universe wants you to share." From that philosophical biggie, she jumps quickly to the specific, saying, "The audition is never over—this is very important." She has the first student make his entrance and advises him not to walk on stage "as if you are about to leave. Concentrate. Relax. Enjoy. Be grateful for the gift." He comes in again after her short admonishment, and she compliments him on the result.
Manchester listens to this initial volunteer sing Stephen Sondheim's "Being Alive." When he's finished—and here might be the place to report that every one of the four singers (the fifth is an actor) has an impressive, if not entirely polished, voice—she asks, "Who were you just singing to? Particularly in a concert performance, you must think about singing to someone specific." She suggests the singer think about "picking someone to reassure them all is well." She insists that when singing, it's important to imagine a situation where "the stakes are high."
Find the Internal Life
Next up is a young woman who sails directly into a Verdi aria. When she's lofted the last note, Manchester praises the rendition but then asks for the aria again, insisting, "Play the scene so I can see what you're saying. Use the space. Sing the internal life of the song." With that, she discourses briefly on the lyric being more than words on notes; it contains both a message and a subtext.
The following participant sings the Joe DiPietro–Jimmy Roberts song "Shouldn't I Be Less in Love With You?," about the end of a long relationship. When he's gotten through it nicely and not without nuance, Manchester takes no time to say, "Obviously, you haven't been married for 30 years," zeroing in (but obliquely) on the need for thoughtful song selection. "Try something," she says after a short pause. "Sing it to someone older who didn't understand your choice to be an artist. This person is on her deathbed, and this is your last chance to work things out. I want to see that in your body."
Absorbing this, the student begins, though Manchester stops him quickly to request that he raise his head and "sing out here so we can see your eyes." He takes the direction and sings the ballad through once again to its end. The difference between the two renditions is so marked that several of the onlookers—including Lin Arison, co-founder of YoungArts with her late husband Ted—hold back tears. Manchester says with calculated understatement and indicating how much brighter the voice has become, "Very emotional, no?"
A traditional folk song about five maids fetching water from a well is the succeeding offering, prompting Manchester to say in response, "Sometimes I'll take a song that's light and pop-y and slow it down, discover a new internal life." The singer starts again, and Manchester speaks up, thinks first, and then exhorts, "Tell me a really dirty truck driver's joke. I'm trying to get you into the space between the words." Adhering to the instructions, this fifth singer, as those before her, brightens throughout her delivery.
Before closing the 90-minute session, Manchester adds another observation from experience, insisting that singing is "a full-body experience—to the tips of your fingers." She also says about the act of singing, "What you do is help [the audience] remember things we have forgotten. There's a chance that you're healing the audience."
So now a few words about Young-Arts. According to the fancy booklet produced for this week in New York City, "YoungArts is the core program of the National Foundation for Advancement in the Arts." The organization's mission is to "identify emerging artists, provide educational enrichment and assistance in their pursuit of the arts, and to raise the appreciation for and support of the arts in American society." And here's the kicker: "YoungArts is open to high school seniors and other 17- and 18-year-old artists."
Before the column concludes, the promised startling Manchester fact: This is the first master class—or any class like it—she's ever led.