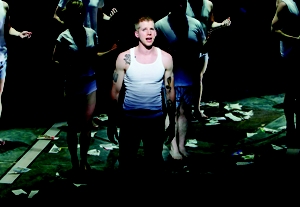 "The challenge in doing a Stephen Sondheim show is that the bar is raised so high," says Aaron Lazar, who plays the buffoonish Count Carl-Magnus Malcolm in the Broadway revival of "A Little Night Music."
"You want to make Steve happy; you want him to approve. Some great actors have been part of Steve's work. You want to feel you have been cast well."
It's a tall order, but no taller than the challenges facing five other singing actors appearing on the Main Stem in productions representing an array of musical genres—from punk rock to rhythm and blues to golden oldies of the 1950s.
Lazar, who is a veteran musical-theater performer, says Sondheim's lyrics are so specifically written for each character, "if you lose your place, it's not easy to ad-lib. I'd be lying if I told you I wasn't going over the words to the songs backstage before I go on. You have to remain physically and mentally focused." Conservation of energy is high on the list as well. "I dance in the opening waltz, and then I'm backstage for 45 minutes," he says. "I have to make sure that when I come back on the stage and introduce my character to the audience I have the right energy."
Cass Morgan also has to pace herself in the high-octane "Memphis." The actor, who describes herself as "a woman of a certain age," has been identified in recent years with such traditional musicals as "Mary Poppins" and "Beauty and the Beast." "Now to yank it up to soul, that's hard," she says, laughing. Still, she is the co-author and one of the original cast members of "Pump Boys and Dinettes," in which she performed R&B as well as country rock.
Morgan contends that if a show is well-written, she will instinctively respond to the requirements of the role. "In the early gospel numbers [in 'Memphis'], my voice is mountain country, nasal, not adorned, hardscrabble, life is tough," she explains. "By the time [my character, the hero's mother] goes through a spiritual awakening, the voice has become soulful, lush, and full of life. The rock-and-roll, rhythm and blues will emerge from character."
J. Bernard Calloway, who is making his Broadway debut in "Memphis," talks about the vocal challenges of eight shows a week in addition to reconciling his character's musical authenticity with the needs of an audience. "For black folk, I felt I was selling out," he comments. "I don't feel my character Delray singing in his club would be so articulate.  I wanted the heart and soul of the music to be felt instead of worrying about the consonants. [Director] Chris Ashley said he was not trying to take anything from me but that it was important that the audience follow me. It's a large, mixed audience, and we don't want to lose them, especially early on when my character opens the show."
As a native Southerner who tends to swallow consonants and drop endings of words, Calloway admits the challenge was that much greater. But when he learned to place his voice forward, instead of allowing it to fall backward, he was able to articulate the words and hit the consonants while remaining true to the spirit of the music. "Now I know where the voice lives in the muscles."
Michael Esper, who plays one of the emotionally disenfranchised youths in the Green Day–based rock musical "American Idiot," also faces the challenge of balancing the authenticity of the music with communicating clearly to the theatergoer. "The show lives in a world that's somewhere between a musical and a rock concert," he explains. "And since it's all sung-through, the storytelling is in the lyrics, and we have to communicate them so they are intelligible. At the same time we have to be true to the integrity of the score. If we were singing at a rock concert, we would take certain liberties that we can't take here."
Stark Sands, who plays another damaged youth in "American Idiot," recounts the overwhelming physical demands of the show, though he spends much of it in a wheelchair. But early on he is "kicking, punching, jumping, and singing. We're huffing and puffing, and I've lost 10 pounds. I hurt my neck during one of the previews. It was a painful muscle spasm that left me immobile, but the adrenaline carried me through." Also, he has had to change his approach to singing edgy music, using his body instead of his throat to produce the sound. The trick is to sustain the voice without injury and evoke the right style, he says.
Lance Guest, who plays Johnny Cash in "Million Dollar Quartet," says his major challenge is trying to fit an iconic figure into the requirements of the story. It's not about Cash but about record producer Sam Phillips and the rest of the legends portrayed, including Elvis Presley and Jerry Lee Lewis. Relationships have to be clarified and compressed. But at the same time, you can't violate the truth of who Cash was, says Guest. "He was a flawed human being, but what strikes me is that he was always true to his faith. I was more interested in showing that part of him than the vulnerability. That was already done in the movie ['Walk the Line']. Musically, the challenge is not playing too much guitar. "If you're playing by yourself, you can get away with busy strumming, filling in the gaps with rhythmic music. But when there is more than one of you playing, it can become too busy," he says.
Guest insists he is not impersonating Cash. "The voice, the way he moves, walks, sings, and talks comes from an internal place inside," he elaborates. "All vocal production comes from how you shape the inside of your mouth and throat. It's not mimicry. It's an empathic thing." 
Paving the Way
Nonetheless, what most prepared Guest for the role, aside from being a lifelong guitar player, was his familiarity with Cash's world: "I was 9 years old when I got my first record, and it was Johnny Cash. It always seemed like he was a member of my family. He had that way of speaking that members of my family had."
Besides the daunting musical challenges in "Memphis," the undercurrent of racism in the piece is hard to grapple with, Calloway admits. Because of that, he says, his best preparation for "Memphis" was appearing in regional productions of "A Soldier's Play" and "The Piano Lesson," dramatic plays that deal with the difficult theme.
Life as a mother and grandmother was the best preparation for playing Mama, says Morgan. "I have children and grandchildren, and they are the most important thing to me, and it's those feelings that I focus on to give Mama added dimension. If I think of her actions as an expression of love for her son and her desire to protect him from the cruelties of the world. That keeps me in a loving mode even when it doesn't look like it."
Performing in Eric Bogosian's "Suburbia" has served as Esper's primary reference point; he notes the mood in "American Idiot" harkens back to that darkly funny play about aimless young people hanging around a 7-Eleven parking lot. "Eric explores and articulates the experience of the suburban wasteland," says the actor. "Also, I lived in suburbia, and so I know the feeling of being trapped and needing to escape." Being an outsider is the key to understanding "American Idiot" and his role in it, he insists.
Sands' pop-rock roots and playing in a band inspired by Green Day, Pearl Jam, and Nirvana have helped give him the musical chops for "American Idiot." He knew Green Day long before coming on board: "I had already memorized all the music, and when I came into the audition I had my own version of each song and just threw my body into it." 
A lifetime of studying the music of Sondheim most prepared Lazar. When he was a high school junior and saw a video of "Sweeney Todd," he says, "I felt if that's what you can do with a musical, then that's what I want to do with my life. When you aspire to be part of that work, you're thinking about it all the time, even subconsciously. Years and years of exposing myself to his material and singing it and reading books about him—understanding who he is and where he is coming from—have informed my performance in 'A Little Night Music.' "
Next Stop
Lazar's ambition is to do another Sondheim show. But he's also grateful to have had the chance to play a character that "people may have thought was against my type. I'm usually cast as the romantic lead, and here I play a character [role]. I'd like to think 'A Little Night Music' has opened doors, so that I can continue playing character leading men in addition to romantic leads."
Now that Guest has taken on a musical role, he says he might like to tackle another, such as Nathan Detroit in "Guys and Dolls." He's also been told he might make a good Judd in "Oklahoma!," though he says, "I'm probably too old for that now."
Calloway is hopeful that he has earned the respect of his peers and members of the industry who can appreciate his musical range. "I'd like to play Coalhouse in 'Ragtime' and Porgy in 'Porgy and Bess.' Musically, that's the opposite of 'Memphis' and a great challenge. I like to do work that helps me move forward."
Neither Sands nor Esper has plans beyond "American Idiot." Esper says appearing in a show like "American Idiot" is an end in itself. Sands notes, "I just hope we can keep on doing this and that audiences will keep on coming. A year from now I want to be doing this." For him a pinnacle has already been achieved. Green Day frontman "Billie Joe Armstrong has seen the show 15 times," Sands says. "We've all been his fans, and now he's our fan and friend. That's special."
Morgan is hopeful that the powers that be recognize "the old girl still has it!"