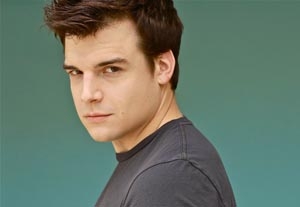 What female singer looking for a vocal coach wouldn't be intrigued by the notion of working with Mr. Darcy, the romantic hero of Jane Austen's classic "
Pride and Prejudice
"? While we're at it, what male singer wouldn't want to pick up tips—if not more—from the superficially haughty but deep-down warm-hearted fellow?
Darcy isn't available, of course, but perhaps the next best thing is. He's Doug Carpenter, who played the beloved and often envied character in a musical version of the novel during the now-concluded eighth annual New York Musical Theatre Festival. In his program bio, Carpenter not only lists the musicals he's done in various places outside New York City but notes that he studied classical music as a
University of Nevada, Las Vegas
, undergraduate and snagged a master's degree in music from UCLA. He also mentions that he coaches on the side.
Or not so on the side, depending on when and where you catch him. Your Back Stage correspondent recently caught him at the Edison Café, where—having moved to Manhattan only three months ago and having won the Darcy role on what he thinks was his third local audition—he talked about his singing career and, in relation to it, his coaching career.
A tall, good-looking lad—he wouldn't have been playing Darcy if he weren't—Carpenter more than once refers to singing as his passion. "My first passion is singing" is how he phrases it one of those times, but he emphasizes, by way of establishing his priorities, that his own singing is not the be all and end all. "I want to have stability and to help others," he says. "My end goal is to teach. There's a need for classical technique that can be applied to all styles—in rock and pop and jazz."
Where is he, at 27, on that path? Schooled partly in Nevada because his father was, and still is, an often-transferred military man involved in forensics, Carpenter says, "I started singing when I was about 4. I started singing professionally as soon as I could get my working papers. I've supported myself since then by singing."
And the instant he could, what did he do with those Las Vegas working papers? "I was a singing gondolier at the Venetian Hotel," he says. "I went out in a boat every 12 minutes and was expected to sing several hours straight, loud enough for the mall—folk songs and arias. That's where I learned to preserve my voice. I was losing my voice, really getting tired, but you're excited about singing. You just go for it, because you're young. And foolish. I began thinking about taking the pressure off my vocal cords and about pacing. I still wasn't thinking about support."
Carpenter reports that other voice-saving lessons came the hard way. When in his sophomore year at UNLV, for instance, he was handed the title assignment in "Don Giovanni," "I wasn't ready for it, not at all. I have a recording [of it], and it's so bad—so, so bad. Trial by fire." Singing to pay his tuition, he was doing choir work as well as taking classes (sight-singing, for one) and rehearsing. "I was singing 12 hours a day. I got through it."
Opera Vs. Musical Theater
At UCLA, Carpenter began to reassess his goal. "I didn't really love opera," he confides. "I liked it, but my passion is singing in English. No matter how good you get at foreign languages—I wasn't that good—you lose something." He realized that he much preferred musical comedy and has concentrated his work there ever since. Among his credits, as a matter of fact, is an eight-actor version of "Camelot," which he sometimes refers to as "Camel-8."
Carpenter has also appeared in a '60s revue, "Life Is But a Dream," that he calls "the most fun music I've ever done in my life." It's such fun that as a follow-up to the Jane Austen tuner, he's just gone back to the West Coast for another short run of the revue. The Austen outing, on the other hand, represents for him "the smartest show I've ever done. Now I'm, like, I want to do more interesting theater."
And that's why he migrated east, and having closed the studio he opened in L.A., he expects to open a Manhattan studio just after the first of the year. There he'll resume his work as a coach, applying the classical technique he's trained in but not keeping to it strictly. "There is no one right way" to coach, Carpenter says. "If it's not helping you, let's try it a different way." By that he means that for students who respond to explanations of "technical physiology," he'd adhere to that approach, but he'd adapt for students who respond to "imagery, something more abstract."
In the short time he's been east, Carpenter has also noticed a significant difference between the coasts in terms of audition preparation. On the West Coast there are "maybe two or three men going up for a role" who've prepared adequately. The East Coast, on the other hand, is likely to flush out many times that number of qualified men who've labored on their performance.
The implication is that when he opens the new studio to work toward coaching full time, he'll be stressing East Coast expectations for both men and women.