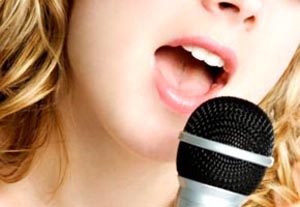 "I can't say I have a method." That's Jackie Presti speaking. "I never understand any method. Does any method fit every person? We're not cookie cutters." This is the
Jackie Presti
who—when the
2010 Back Stage Readers' Choice Awards
issue was published in June—was named favorite vocal/singing coach in New York.
Presti is talking in a small room at the West 57th Street office she shares with her acupuncturist husband. Framed on a wall in her double-door, soundproof space is a picture of Frank Sinatra, along with other show business–related wall ornaments. Occupying the room most importantly is an upright piano with piano seat, a black metal music stand, and a small, low wooden stool. (More later about that unprepossessing stool.) To call the area cramped only begins to describe it, but at the same time the space unmistakably suggests that high-octane work is accomplished there.
Unstrangling People
"I wear a lot of hats," Presti says. "I wear my therapy hat," and when singers are healthy again, "I put on my music hat." What she's getting at is that she divides her time with singers, either coaching them or helping to repair damage before coaching can resume or begin. "My job is to unstrangle people. I often work with singers who have vocal damage. If they physically can't produce the sounds they want, they can't make music."
Presti describes her nonmethod as "detective work." When newbies arrive, she asks them to talk about and demonstrate how they breathe, how their voice operates. From what they say and do, she gets a grasp on what she'll be called upon to accomplish in sessions with them. "I can tell what a person does as a musical person," she says.
"A lot can happen with misuse," Presti explains, and in assessing damage, she hears the result "as not right. That's where the detective work comes in." She itemizes trouble spots such as "holding the breath," "locking the jaw," "tongue retracted," "the soft palate not moving," and "singing through the nose." She notes a variety of medical causes for problems: cysts, nodes, polyps, and bowing. This last she illustrates by making parentheses of her hands to imitate vocal cords no longer pressing together completely. Some of these conditions she's able to address; others, obviously, require a different sort of professional help.
An underlying problem that crops up for singers, Presti stresses, stems from rock 'n' roll and advanced recording technology. Singers working in shows for eight performances weekly "are trying to emulate what people are hearing" on recordings. Not easy, she underscores, when, for instance, recording engineers can easily correct pitch digitally. If they don't have the energy and stamina to do properly what can be altered in the studio, she warns, they're inviting big trouble. "It's like running a marathon," she says: You don't prepare for it in a week.
Consequently, in Presti's detection, she certainly wants to know "how balanced is the person's voice." Elaborating on that, she talks about how some singers may be perfectly fine in one register but need her assistance in broadening their range—the more classically trained singer "who can't move into the lower register" and vice versa, she says. She's particularly concerned that singers using only one segment of their voice in a show take care to keep the rest in shape. "Get the whole thing working" is how she puts it.
Not for Shower Singers
Though friendly, even perky in conversation, Presti gets down to brass tacks in her pressure-cooker room. "I'm not for people who sing in the shower," she says. "I'm serious. I expect people to do the work. They record their sessions here." On hearing that, is it too much of a leap to assume that her practices, if not her refined nonmethod, are among the causes of her popularity?
Presti reports that in her early-career days she coached—teaching at Manhattan School of Music, for instance—while also performing, recording, and doing commercial voiceovers. (She continues doing some of those.) A piano player as well, she says, "I've played for singers, always taking on the role of teacher." She was and still is involved in contracting singers for films and commercials, supplying the right person when, say, she is asked for someone "who sounds like so-and-so." But it was only after the Broadway musical "
City of Angels
"—in which she sang as one of the Angel City 4—closed in January 1992 that Presti decided to take coaching much more seriously.
She went back to school (Columbia; she was a University of Miami undergrad) to study speech pathology with an emphasis on voice therapy. She spent more than three years, mostly in night classes, boning up on the subjects, including a detailed understanding of otolaryngology ("the branch of medicine that deals with the anatomy, function, and diseases of the ear, nose, and throat," according to the Random House Dictionary). Meanwhile, she continued with the singing assignments. Only when she completed her courses did she take on what now can be 30 to 35 clients weekly, some of whom are on Broadway today in "Wicked," "Mamma Mia!," and "The Phantom of the Opera."
Remember that small stool mentioned above? It's not there because nothing larger can fit. It's there because Presti has her reasons for using it. Ask her about its function and she says something—and illustrates it physically—about how some singers who have difficulty relaxing their diaphragms when standing can do just that when sitting. In her explanation, she brings home even more pointedly how carefully she considers everything she does.