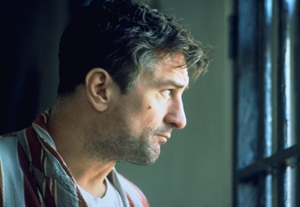 I've seen so many brilliant performances, it's hard to pick just one. Recently, I saw again Robert De Niro in "Awakenings," and he just knocked me out. Specifically, there's a scene in the movie where De Niro's character is meeting the young girl played by Penelope Ann Miller in the cafeteria of the hospital where he is staying. He has had a treatment to cure his catatonia that was initially successful but now is causing grotesque muscular tics. He's twitching uncontrollably. They finish their conversation, and he's getting up and leaving. She takes his hand and puts it around her. They slowly start to dance together; gradually the twitching stops. That moment just breaks me down, it's so moving and beautifully done. I had to turn off the television because I couldn't watch anymore.
It can be difficult to watch that kind of truth. The role was physically demanding, and the specificity he brought to it was incredible. At first he is unresponsive to anything, and then the doctor played by Robin Williams finds these drugs that might improve his condition. De Niro very slowly starts coming alive; it didn't happen all at once. Then it was the same gradual process when the side effects of these tics started happening. It was fascinating to see a little snippet of a movement from De Niro, and Robin Williams' character would just make a little note of it. That little movement would develop into a full-out, almost uncontrollable seizure. It was amazing. I love to see that type of specific work.
Of course, De Niro has had a long history of memorable performances. Everyone knows "Taxi Driver" and "Raging Bull," but "Awakenings" really did something for me. Last year, to my great privilege, I had a chance to work opposite him in a movie filmed in Spain. I was in Los Angeles, and I got an audition from my agent there who said, "Well, it's just one scene, but it's with Robert De Niro and it's in Spain." I said, "I guess I'll come in for that." It's funny: Just a few days before I heard about it, I had a dream about De Niro. I can't tell you why, but two days later I got the call to audition to be in the movie with him. I wish I could dream about getting the Mega Millions lotto prize.
In the movie he plays a blind man. It was lovely acting with him, even though it was just one scene and he was wearing these dark glasses so I couldn't see his eyes. He was lovely, and he kissed me on both cheeks when we finished.
Adriane Lenox is appearing Off-Broadway with Manhattan Theatre Club in "Regrets." She won a Tony Award for the MTC production "Doubt." Other Broadway credits include "Dreamgirls," "Kiss Me, Kate," and "Chicago."