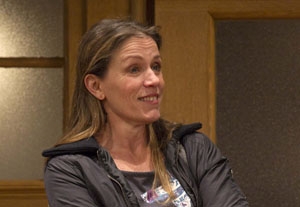 Some months ago, I saw Frances McDormand on Broadway in "Good People" by David Lindsay-Abaire. Frances turns up at a party to which she is not invited, and the host is a former lover who is married. He may very well be the father of her child. She turns up at this house, and I was sitting there saying, "Oh, please go home! Don't stay there! This is a disaster waiting to happen." She was so convincing, she made me actually squirm in my seat. It was like being a child again.
She was that character. I don't know how we actors do whatever it is we do. This wasn't Frances McDormand; this was the character. You knew she was going into that house for some party that had been postponed; she never got any notice of the postponement. And of course this guy is married now, and his wife assumed that Frances' character had something to do with the catering people. She's there to see this guy who was the great love of her life when they were in school. And you know she really shouldn't go to this place. There was something so vulnerable about her. And all the emotions you feel where somebody has arrived at a place where they're really not wanted, and they don't leave, and they insinuate themselves—or try to—into the lives of others. Frances had the ability to make you feel you weren't in a theater; you were eavesdropping or looking in on a real happening.
After the lights came up, I couldn't even get out of my seat. I just sat there and thought, "Oh, my God, what have I just seen here? Oh, I'm so glad I'm part of this acting profession; I'm part of the theater." It made me feel that good.
Alan Mandell is widely known for his roles in the works of Shakespeare and Beckett, as well as in productions on and Off-Broadway, throughout California, and in Europe. He acted, directed, and was general manager at the San Francisco Actor's Workshop and the Repertory Theater of Lincoln Center.