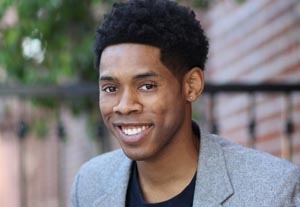 One of my favorite performances is Daniel Day-Lewis' in "There Will Be Blood." He was solid and engulfed in the character. It's one of those performances where if it's on TV, I just have to stop and watch it no matter what I'm doing. There was so much truth and passion within his acting. I really believed his character's drive to conquer the oil industry. I pay attention to an actor's eyes and what they give off -- also the body language. Sometimes an actor can say so much without uttering a word. You can feel the pain through how the performer carries himself. How the actor responds and listens to other actors also tells you a lot about the role.
There's a scene where Day-Lewis' character, Daniel Plainview, is sitting on the beach with his stepbrother. He says, "Yeah, we can get liquored up and go to the Peachtree dance." The brother doesn't respond to this inside family reference, and you can tell this makes Daniel realize this man is not really his stepbrother. Day-Lewis' back is hunched. He puts his head down and then looks at the other actor. His eyes are squinting. Then he turns and puts his head all the way down, and you can see his disappointment because he thought he'd found his sibling and it turns out the guy is an impostor. Two scenes later, he wakes up the man in the tent where they are sleeping and shoots him.
There's another scene where Day-Lewis expresses Plainview's emotions through physicality. It's where Paul Dano as the preacher is asking the congregation if anyone requires salvation. Daniel says he does but only because he wants the land held by an older, wealthy gentleman who has said he will only give it to Plainview if he will accept Christ. The preacher tells Plainview to confess that he's rejected his son. He doesn't want to admit this, but you can see the shame on Day-Lewis' face and in the way he has his head down and glances up slightly. His attitude and feelings are all within his eyes and shoulders. Then he changes and sees that the whole thing is a joke. He starts to laugh inside because Plainview realizes this confession is a charade, and a little smile crosses his face. Even as Dano is slapping him and yelling at him to confess, he's still sort of laughing at the preacher as a fool.
Alphonso McAuley is starring on Fox's "Breaking In" and TV One's "Love That Girl." His film credits include "Fat Albert," "Nim's Island," "Pride," and "Glory Road." He frequently performs at comedy clubs in Los Angeles.