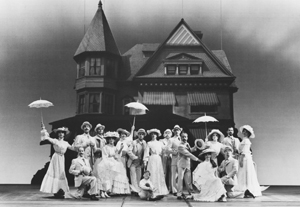 "It was the music of something beginning."
There's a moment in every actor's life where everything comes into focus. A time when you realize there's strength in art, and you feel an urge to be a part of it. For many that moment happens onstage, interpreting a work of incredible magnitude. For some that moment strikes while sitting in an audience, viewing the workings of something truly great. The first time I saw the musical "Ragtime" was the moment I surrendered to the power of musical theater.
The Christmas of 1996, my sister Celia stuffed my stocking with a concept album of an exciting new show. She was a musical theater student at the University of Michigan at the time, and "Ragtime" was the album her classmates were currently obsessing over. It was right around the time when masses of consumers were making the shift from tapes to compact discs. I remember spinning that rainbow disc around my finger, wondering if she remembered that the Keenan-Bolger household didn't actually own a CD player. Luckily, Celia had acquired a Discman, so we sat on the wrapping paper–strewn carpet and listened through her headphones as she used our old tape deck to dub me a copy. To say that I immediately fell under the spell of lyricist Lynn Ahrens and composer Stephen Flaherty would be an understatement. "This is better than 'Titanic!' " I remember exclaiming. The music was unlike anything I'd ever heard—track after track of songs that sounded both pastiche and altogether brand-new.
When the producers announced the show would be having an out-of-town tryout in Toronto before moving to Broadway, my siblings and I begged our parents to make the road trip from Detroit to check it out. We were way up in the cheap seats, and the conductor looked like a peanut, but as the opening chords of the prologue began, it hardly mattered where you were sitting.
The opening number introduced the three groups of people—the Harlem blacks, the Eastern European immigrants, and the New Rochelle WASPs. The choreography ingeniously moved the three tribes as separate units, countering and confronting each other, finally culminating in all of them facing the audience and charging downstage. Sitting in my balcony seat, the strangest thing happened. As the final chords of the song played, I found myself with tears streaming down my face. I couldn't explain why. As an 11-year-old, my emotions up to that point were easily explainable and correlated to tangible happenings. If someone said something funny to me, I would laugh. If someone said something hurtful, I would cry. But there was nothing intrinsically sad going on onstage, yet I was nevertheless moved to tears.
I think this was the first time I fully understood the power of musical theater as an art form. If crafted artfully and honestly, a musical could cause all reason and rationale to fall away, leaving only room for raw human emotion. Words on their own carry a certain weight, but when paired with the perfect phrase of music, they are able to express something deeper and more truthful than any poem or essay. I remember my parents clocking what was going on with their son but choosing not to acknowledge it. I'm guessing they came to a realization too—that they would inevitably be paying for another child to go to art school.
I'm thankful to say that I eventually got the chance to perform in this great piece. I landed the role of The Little Boy when the Broadway show hit the road. Not only did I get to perform that legendary opening number, but I got to stand center stage in the very eye of the hurricane. Fifteen years later, I still consider "Ragtime" as the highlight of my career and the show itself a yardstick against which I measure every other great American musical.
Andrew Keenan-Bolger's Broadway credits include the current "Newsies," "Mary Poppins," "Seussical," and "Beauty and the Beast." He's toured in "The 25th Annual Putnam County Spelling Bee," "How the Grinch Stole Christmas," "Mary Poppins," and "Ragtime." As a filmmaker, he's had his videos featured on the Huffington Post, Best Week Ever, and PerezHilton.com.