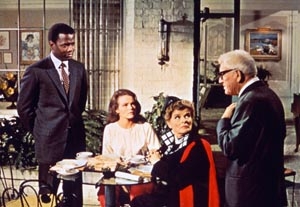 You can't talk about Sidney Poitier's performance in "Guess Who's Coming to Dinner"—really, you can't talk about Sidney's entire career—without acknowledging the major historical significance of his presence in movies.
By the time "Dinner" was released in the midst of America's civil rights movement, Sidney was the first black movie star to achieve success equivalent to that of his white counterparts. He was the first black man to win an Oscar. He carried the enormous responsibility of providing a positive image of black men onscreen, while facing criticism that some of his characters—like his John Prentice in "Dinner"—were "too perfect" and weren't allowed to have any real flaws. How do you separate the actual performance onscreen from this tremendous amount of added importance offscreen?
You could be a young man in India, sitting in a movie theater in Madras, removed from the film's cultural context in America. The context you have is the one the movie presents: A smart, successful black man falls in love with and wants to marry a sunny, idealistic white woman in a country where the majority of the population has a problem with that. You watch as he not only contends with the objections of passersby, and of his fiancée's father, but struggles to convince his own father as well. You marvel as this brilliant actor switches from quiet dignity to intense ferocity as he delivers an emotional speech demanding his father's support (a moment, Sidney would tell you himself, that drew from his own real-life father-son relationship). You think of your own desire to one day make it from India to Hollywood, a notoriously white-dominated culture, and you wonder if you would face the same type of suspicion and discrimination, and if so, could you face it with the same type of bravery and determination as this man?
And isn't that one of the most simple, enduring pleasures of movies? To know that someone, somewhere, perhaps thousands of miles across the world, feels the way that you feel, and understands the struggles you face, and finds them important enough to put them on a big screen and discuss them with millions of others? I suppose every moviegoer, at one time or another, has had this experience and has wanted to meet the person up on that screen who made them feel understood. I count it as one of the greatest honors of my life that, once I made it to Hollywood, I got to meet Sidney, and become his friend, and thank him for bringing John Prentice into my life.
Ashok Amritraj has produced or executive produced more than 100 films during the span of his 30-year career. He has partnered with every major studio in Hollywood, and produced films starring the likes of Bruce Willis, Sandra Bullock, Sylvester Stallone, Angelina Jolie, Cate Blanchett, Dustin Hoffman, Steve Martin, Antonio Banderas, Dwayne "The Rock" Johnson, Kate Hudson, Kurt Russell, and Dakota Fanning.