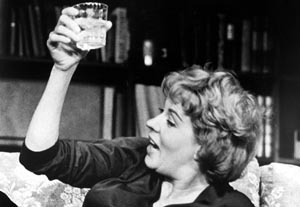 The most exciting evening I've had in the theater was a preview of the original production of Edward Albee's play "Who's Afraid of Virginia Woolf?" and the most exciting aspect of that glorious production—and the performance that has excited me more than any I've seen on the stage—was Uta Hagen's as Martha. You can't isolate your experience of a performance from everything about its context: the role, the play, the director, the other actors, and the moment you saw it in your life. I think that's an implication in Uta's teaching. I've always felt she believed acting is a rich and intricate thing to learn, and that the more you learn about it, the more you are ready for the moments when the stars line up. Here are some of the things that lined up for me that night.
First, the play. It was the first time I had ever seen the original production of a great play—and a preview at that. I knew nothing about it beforehand, other than that it was about two college faculty couples drinking together in the middle of the night. And here was this dark, modern comedy and this harrowing Greek tragedy, and in the center of it was this great character, Martha, played by a teacher I'd just begun to study with, Uta Hagen.
And I had never seen her act before. But she had begun a process of saving my life as an actor. And now to see how everything she taught was pouring out of her in this jazzy, classical, electric way made it seem that everything was possible in acting. Clearly she had been developing this capacity for years. And she continued to develop it for the rest of her life, in a number of stunning performances. But I'm just telling you about the night that this passionate and generous devotion she had to her craft became a bolt of lightning that jolted me into a hope that has never left me since.
Maybe that is one way of defining what is meant by the greatest performance you ever saw in your life.
Austin Pendleton is an actor, director, playwright, and (at HB Studio) a teacher of acting. This fall he will direct "Detroit," by Lisa D'Amour, on Broadway. He directed the play last fall at Steppenwolf Theatre in Chicago, where he is a member of the ensemble.