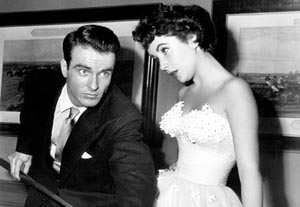 In the 1950s I had enrolled at the University of Pittsburgh to be a journalism major. I remember being rushed by the fraternities and being surprised that at one fraternity house they had on a pornographic movie. Being a teenager, I should have understood why, but I really didn't. I had some misgivings about going into journalism. I imagined that someday an editor might tell me to ask someone who had lost a loved one how they felt. I see that all the time on the news now. Not for me.
Other than my appearance as Don the Janitor Boy in the grammar school graduation play "Getting Gracie Graduated," I had never acted, nor had I thought of being an actor. Then one day I saw Montgomery Clift in the movie "A Place in the Sun." He made acting look so easy, and he got Elizabeth Taylor for his girlfriend. Later in the movie he is sent to the electric chair, but still.
Suddenly I wanted to be an actor. Everyone thought I was nuts. I remember someone saying, "Nobody makes a living in that field." The last person to come out of Pittsburgh that anyone would have heard of was Gene Kelly, years earlier. In any case, I began to study acting. After some time at the University of Miami, I spent a year and a half at the Pittsburgh Playhouse. They brought over a renowned speech teacher from Carnegie Tech, which is now known as Carnegie Mellon. Her name was Edith Skinner. I would say one sentence and she would furiously write a page of notes. I remember her saying to me, "How can you expect anyone to pay to see you act if you speak that way?" It seemed to me that what she was asking for was an English accent. She called it mid-Atlantic. To me, it was an English accent. I remember thinking to myself, "That's not the way Montgomery Clift sounds." So Montgomery Clift not only inspired me to become an actor, he also saved me from being an actor from Pittsburgh with an English accent. I will always appreciate him and revere his work.
Charles Grodin, an actor whose film credits include "Midnight Run," "Heaven Can Wait," and "Rosemary's Baby," is currently a commentator for CBS News Radio, heard across America every day. He is also a best-selling author of seven books.