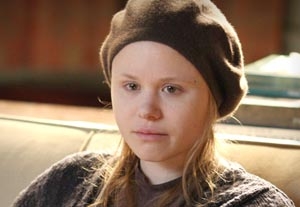 The HBO series "In Treatment" beckons the viewer to peer into the keyhole of the office of New York psychologist Dr. Paul Weston, played with utter conviction by Gabriel Byrne. Among a brilliant cast, Alison Pill, one of the youngest actors on the show, distinguished herself with a performance of depth and complexity.
For any actor, especially one so young, to be able to peel back the mask of persona and denial and expose the raw emotion of a young woman of 23 grappling with boyfriends, identity, and self-sufficiency while denying the severity of a cancer diagnosis is astonishing. She never tries to win the viewer over with her congeniality. We are drawn to watch her honest portrayal because we have seldom seen a performance so lacking in artifice, so full of emotional truth. We don't always agree with April's decision to hide her illness from her family or to reject her closest friends' offers of support, but we understand why she has made these decisions.
Pill has a remarkable ability to completely listen, think, and react as the character of April. Her work creeps up on the viewer because it is never self-conscious or grandiose. It is the best kind of acting because we forget we are watching an actress and believe we have somehow stumbled into the most private and revealing moments in this young woman's life.
Donna Morong is a casting director with more than 25 years in the business. She spent 15 years at the Walt Disney Co., ultimately becoming senior vice president of motion picture casting in the feature film division, where she cast "The Princess Diaries," "Shanghai Knights," and "10 Things I Hate About You." For Miramax, she cast "Gone Baby Gone," winning an Artios Award for independent feature casting. She and CD Deborah Aquila recently founded the Aquila Morong Studio, an acting school in Hollywood.