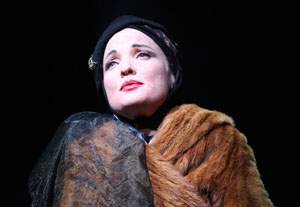 When I look back over the years and reflect on all the truly wonderful actors I've seen, there are a few performances that continue to hold power over my mind: Judi Dench in the West End production of "The Royal Family," David Suchet as Antonio Salieri in "Amadeus" at the Old Vic, Brent Carver (an astounding and surprising Tevye) in Stratford's "Fiddler on the Roof," and, of course, Patti LuPone's star turn in the last Broadway revival of "Gypsy." All these considered, there is one great performance that seems to stand out amongst the rest, one that continues to capture my soul: Christine Ebersole's tour de force in the musical "Grey Gardens."
Based upon the 1975 Maysles brothers documentary, "Grey Gardens: A New Musical" was originally produced for the 2005-06 season of Playwrights Horizons. After the sold-out Off-Broadway run, Ebersole moved with the production to Broadway later in the year, where she won her second Tony Award for best leading actress in a musical.
Playing not one but two roles (in Act 1, Christine played matriarch Edith Bouvier Beale and then, in a brilliant Act 2, turned around and played Edith's own daughter, Little Edie), Christine was more than an actor playing a part; she was actually inhabiting the character. I was fortunate enough to see both productions (and, as a result of working at Playwrights Horizons, saw her numerous times in both the rehearsal hall and on the smaller stage) and the portrayal was always thrilling.
In Act 1, as society maven Edith Beale, Christine brought a pitch-perfect tone to the role—a woman who clung to the elegant trappings of her past, desperate to maintain the lifestyle she had created for herself and her family. Christine's intentionally mannered voice and vocals (reminiscent of Billie Burke) perfectly suited the stylings of mid-20th-century East Hampton, N.Y., and her renditions of "The Five-Fifteen," "Hominy Grits," and "Will You?" (in particular) were both charming and impressive. A consummate actress at work.
In my opinion, however, the best was yet to come, as Christine dared to throw down the gauntlet in Act 2, transforming and transcending herself completely by embodying the spirit of Little Edie. Sacrificing her brilliant voice for the greater good of the role itself, Christine altered her stature and tone. Gone was the lush soprano of Act 1, replaced by a strident, Long Island pinchedness that caught the fragile anguish and rage of Little Edie the spinster—an eccentric wannabe, longing to be free.
There is a scene near the end, where Little Edie decides to finally break free (she had tried this years before with little luck) and runs out of the dilapidated house in nothing but an old, mangy fur coat, suitcase in hand. About to open the garden gate and leave forever, she stops. In Christine's portrayal, we see a woman paralyzed. As if plucked from the ending of "Waiting for Godot," this character cannot decide on which way to move and so begins to lament yet "Another Winter in a Summer Town." Gone is the rage, and instead Christine shows us the little girl who cannot help but wonder who this middle-aged woman is now inhabiting her. I still remember the last few strains as Christine sings, "Oh God, my God. My God." For what felt like 30 riveting seconds after this, Christine is hunched in silence over her suitcase, while at the same time we start to hear the plaintive cries of her mother, begging for her to return to the house. Christine at last picks up the suitcase and, with a look of both resignation and despair, turns upstage to head back inside. It is a moment in the theater that continues to give me a chill upon recollection. A truly great performance, and one of which Ben Brantley in his New York Times review of the Broadway production wrote, "Watching this performance is the best argument I can think of for the survival of the American musical." I agree.
Duncan Stewart, CSA, is the owner of the New York–based Duncan Stewart and Company, which casts numerous Broadway, West End, and regional productions, including "Thriller Live" (West End), "Chicago: The Musical" (Broadway), "La Cage Aux Folles" (national tour), and the upcoming musical "Yank!"