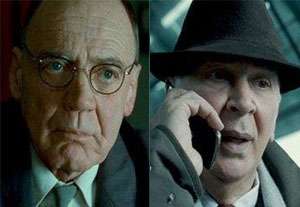 The movie "Unknown" came together for me in this one spellbinding scene between two acting masters: Bruno Ganz and Frank Langella. If you're an actor, watching a master teaches you how to be smoother, more honest, and more trusting. Sometimes when actors audition, we're a little too big, and we don't realize that being more subtle is essential to acting. It really is just being.
Langella and Ganz play assassin-type men from different countries. From the moment they locked eyes with each other and started the scene, I realized that this was the masterful way of acting in which you're not trying to outdo your acting partner, but are trying to be in concert with him completely. Ganz knows that Langella has come to kill him, and despite Langella's intentions, there's deep compassion between the two men. They both understand it's just the job they have to do. While talking and making tea, Ganz fiddles with this little package in a subtle yet compelling manner. It appears to be sugar, but you quickly realize it isn't. Ganz opens the package, pours it into his tea, and drinks it. He has just killed himself with cyanide. Ganz falls into Langella's arms, gasping, dying. The way that Langella holds this man's body and lays him into a chair is just as if these two men knew each other all their lives. It's a good death; it's an honorable death.
This scene in "Unknown" is one of the best I've ever seen between two actors. They are really focused on each other's energies; they listen to one another and come to an understanding in the end. It's kind of like a play all in one scene—you just get all the information. Truly, it's two masters integrating their talent to make beautiful music. This is great acting to me. 
Giancarlo Esposito is currently garnering critical acclaim for his role as Gus Fring on AMC's "Breaking Bad." He will next be seen opposite Tyler Perry in "I, Alex Cross."  Previous film credits include "The Usual Suspects," "Rabbit Hole," "Bob Roberts," and "Do the Right Thing."