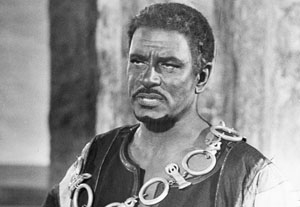 The greatest performance that I've seen is Laurence Olivier in "Othello" at London's Old Vic in the '60s. I'll tell you a little story.
I was producing a show on Broadway, "You Know I Can't Hear You When the Water's Running." Melinda Dillon's contract was over, and she wanted to do other things. We cast a replacement: a young actress who had no career subsequently. We asked her to wear leg makeup. Very common thing. She balked, and her manager balked. So the issue was whether this woman was going to wear leg makeup or not.
Now, I fly to London on business. I go to see Olivier in "Othello," not once but twice. And I have to stand for both performances. But it was breathtaking. It was absolutely an incandescent performance, and I see this actor who at that time must have been in his 50s. And he has black all over his body. He's got it in his ears, in his nose, between his fingers, between his toes. He wears a loincloth, by the way. This man has black over every inch of his body, so much so that you think the poor guy must have had to bathe in Albolene cream afterward.
Many years later I became friendly with Larry, as I call him, and I would often remark about that. It was extraordinary. I got so pissed off at this young actress saying she just wouldn't wear leg makeup. When I came back, I insisted that was a deal breaker. Fortunately, I told her manager and agent the story, and she did it.
That performance of Olivier's was extraordinary. He lowered his voice literally a full octave. He was just magical. His voice was unlike any I've heard him have before, either in movies or on stage. I had seen him in "The Entertainer" I had seen him in a whole bunch of different things. I just remember being involved, which you rarely are with Shakespeare, in spite of all protestations to the contrary. I was really involved with this person's agony, this person who would marry—I've often wanted to have Othello played as a white man in a black culture, to maybe have it resonate even more with a Caucasian audience. There was something about the lack of trust, of being betrayed, that he felt. I really felt his pain. You just don't do that often. You watch these shows as either history lessons or narratives where you're interested in the story. But the actual business of feeling what a character feels onstage and then recognizing that it was written 300 years ago and it still moves you is something else. You're used to being moved by the music of the language, but to be moved by the soul of somebody was remarkable.
Gil Cates is a director and producer. He is probably best known for producing the annual Academy Award shows. His film directing credits include "I Never Sang for My Father" and "Summer Wishes, Winter Dreams." He is the founder and producing director of the Geffen Playhouse in Los Angeles.