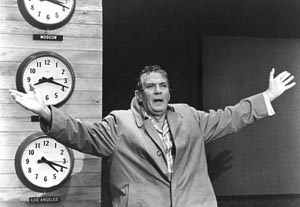 I've been part of some amazing ensembles in my career. One of them has been deemed an iconic television ensemble. So I am always more impressed by the work of an ensemble than I am by most single performances. Ensembles are a special kind of magic.
And that magic is evident, in abundance, in the many unforgettable performances that populate Paddy Chayefsky's award-winning film "Network." This film still ranks as one of my all-time favorite movies for its heart-stopping combination of writing, performance, and direction. There is not one performance in this film that isn't offered by an actor of enormous ability playing at the very top of his or her game. William Holden and Robert Duvall tower in this piece. But three members of the ensemble were Academy Award winners: the great Peter Finch as newsman-turned-madman Howard Beale, delivering his apocalyptic tirades; the stunning Faye Dunaway as a manic network executive; and the stellar Beatrice Straight for the role of a spurned wife, whose Oscar was earned with only a handful of lines in a single scene. Also nominated was the brilliant performance of Ned Beatty as a megalomaniac puppetmaster.
The sheer number of extraordinary actors and performances in this piece staggers me. I have watched it dozens of times. I have memorized monologues and scenes. And most amazing, this film that was conceived by Chayefsky as a satirical metaphor has actually turned into a prescient warning of what television has become and where it may be disastrously headed. Sheer brilliance.
Jason Alexander is best known as George Costanza from the hit series "Seinfeld." He has won numerous awards for his work on the Broadway stage and onscreen. He is also an active producer, director, and writer with numerous credits and currently serves as artistic director for the Reprise Theatre Company in Los Angeles.