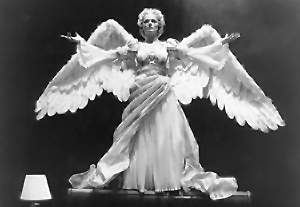 On our first day of technical rehearsals last month, the cast of "
Clybourne Park
" entered the Walter Kerr Theatre. The seven of us sat in the house, quietly taking this moment in. It is fitting that we call theaters "houses" because -- like the one in our play -- houses contain history and "ghosts." As I sat there, I couldn't help thinking of the incredible, mind-boggling experience I had in the same theater almost 20 years ago.
It was 1993 when I entered the Kerr as a young aspiring actor and got to see Kathleen Chalfant, David Marshall Grant, Marcia Gay Harden, Ron Leibman, Joe Mantelllo, Ellen McLaughlin, Stephen Spinella, and Jeffrey Wright perform in George Wolfe's production of Tony Kushner's "
Angels in America
: Millennium Approaches."
I remember vividly (and viscerally) knowing, from the very first scene when Kathleen Chalfant as an elderly male rabbi gives a eulogy, that I was experiencing everything that I loved about the theater. Here was a woman playing an old man, making us laugh -- as she lists the names of the surviving grandchildren she stops after she says, "Eric? This is a Jewish name?" -- and shiver as she explains that the rabbi does not know the dead woman as a person but as a "whole kind of person." The speech then takes on an epic size, detailing the immigrants' journey to America and ending with "She was the last of the Mohicans, this one was. Pretty soon ... all the old will be dead."
I had only been sitting in the theater five minutes, and I was already on the edge of my seat. Suddenly there's a sound cue, and in rolls a desk with Ron Leibman as the vicious lawyer Roy Cohn screaming, "I wish I was an octopus, a fucking octopus!" David Marshall Grant as a prospective associate is there in the office, and he's as overwhelmed as we are. Again I was reminded of what I love about the theater. The space was transformed with a desk rolling on, a sound cue, and a new energy from Leibman and Grant. Transformation after transformation followed. I never wanted it to end. There was Marcia Gay Harden as a depressed housewife hallucinating and imagining Jeffrey Wright as a mysterious travel agent in the Arctic; Joe Mantello and Stephen Spinella playing estranged lovers after the funeral of the old woman from Scene 1; and the climactic theatrical orgasm of Ellen McLaughlin as the angel crashing down through the ceiling at the end of the play.
These eight incredible actors used Kushner's unbelievable poetry to play multiple characters and push and challenge each other. There was also Wolfe's inspired staging, the costumes, the lights, the sound, the set, to tell this epic story spanning time, place, possibility, reality, heaven, earth, high and low comedy, Greek-level tragedy, mutual dreams ...
I've admired individual performances many times, but there is something about a production like "Angels" that can make an evening in the theater a religious experience for me. Here was a company of theater artists at the top of their respective games using all of their physical, emotional, and intellectual abilities and, as can only happen in the theater, sending all of that skill, inspiration, collective energy, coordination, thought, and collaboration through the proscenium to me in my seat at the Kerr. I wasn't passively sitting there "taking in a play" and wondering where I would eat afterwards. No! I was involved, enveloped, and implicated.
I couldn't help being moved, humbled, and awed last month by the fact that there my castmates and I were sitting in that same house as a part of an ensemble of seven about to be on the other side of that same proscenium.
Jeremy Shamos is starring in the Broadway production of the Pulitzer Prize-winning play "Clybourne Park." Prior Broadway credits include "Elling," "Reckless," and "The Rivals." He has been nominated for Drama Desk and Lortel awards and has won an Obie Award. Film credits include "Taking Woodstock," "Dedication," "The Rebound," and "Trust the Man." On TV, he's been seen on "The Michael Showalter" (pilot), "Fringe," "Law & Order: Criminal Intent," and "Damages.