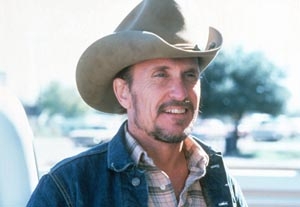 I love actors. I am constantly dazzled by their bravery, ingenuity, and imagination—by their heart. I count myself very lucky to be among them. I have seen so many incredible performances over the years, each unique and meaningful to me in different ways. And every time I am dazzled or moved by an actor, I learn something, so it is difficult to single out one performance to talk about.
But Robert Duvall's performance as Mac Sledge in "Tender Mercies" took my breath away and embodied what I consider the ultimate goal of an actor: to simply live in the skin of the character. To let go of one's own ego—which wants to show out, be noticed, make everyone see how amazing one is—and to humbly embody the soul of the character one is playing. Mr. Duvall made me forget there was an actor on screen: He simply was a broken-down country boy trying to find his way out of his failures and back into grace. Coming from Texas, I had seen many men like Mac—had passed them on the streets, seen them stumbling out of bars, seen their pickups stalled by the side of the road. And I felt a connection with that man on screen so deep it vibrated inside me; it squeezed my heart.
I believe this only happens if the actor has found a deep emotional connection with the character he or she is playing, has dug into himself and found the darkness and pain in his own soul that connects him to his character. From that emotional connection comes a physical embodiment of the character, which allows the actor the freedom to leave himself behind and slip into the skin of the person he is playing. This is the hard work that is the craft of acting. But if it is done extremely well, as in the case of Mr. Duvall, the craft itself disappears, and one is left seeing not an actor at work but a human being one hasn't met before, simply living their life in front of you. It is the humility with which Mr. Duvall let himself become Mac Sledge that I found so incredibly moving. And I thank him for it. It continues to inspire me as an actor.
JoBeth Williams is an Academy Award–, Golden Globe–, and Emmy-nominated film and television actor and director. She is president of the Screen Actors Guild Foundation.