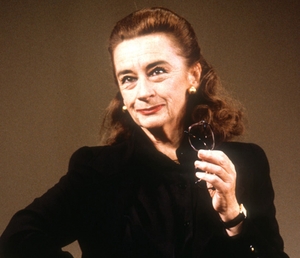 The feeling I had watching Zoe Caldwell in "Master Class" was like no other I have experienced.From the moment Caldwell walked onstage in "Master Class" and said, "No applause. We're here to work," I knew she meant it. The command she had over the audience was riveting. It was a huge lesson in how one "takes the stage" with commitment. She drew me in with passion, humor, bitterness, and imposing stature (although she is a smaller person). I think the beauty of her performance was her strong and often caustic outward character yet all the while having an underlying vulnerability.
I vividly recall those little gems when she was reliving a memory of the past. It was our window into the tortured life of Maria Callas. Her inner life was so rich and filled with countless layers. I felt instant compassion for the character in those moments and began to empathize with her. Near the end of the play, she says, "If I have seemed harsh, it's because I have been harsh with myself." However, I never felt pity for the character, only a deep love and appreciation.
For me, as an actor and an audience member, one of the most intriguing aspects of the theater is the private moment of a character. The moments, either in song or monologue, when a character is alone onstage revealing their innermost conflicts, feelings, or discoveries, can be a challenge. When Caldwell was alone in the spotlight, I felt as if she had a stage filled with the characters to which she was relating. I was captivated by her transitions from past to present.
The magic happened that night when I no longer felt like I was watching the artist Zoe Caldwell but another artist that inspired me as a young girl beginning my training as a classical singer. Without imitation and with full characterization, Caldwell filled the stage with such depth of emotion. I had so much esteem for Callas, an opera singer who vividly conveyed emotion in her voice, but the experience I had in the theater that night felt more personal somehow. I soaked up all of the references to the art itself while she terrified her students. "I hate that word…act. No. Feel. Be." Without singing a single note, Caldwell made Callas come alive.
I was astounded by all of the colors she brought to the character throughout the play and, of course, by the amazing script by Terrence McNally. I believe she took his words to heart when she said, "Art is domination. It's making people think that for that precise moment in time there is only one way, one voice. Yours, eh? Anyone's feelings can be hurt. Only an artist can say 'Ho dato tutto a te' center stage at La Scala and even Leonard Bernstein forgets he's Leonard Bernstein and listens to you." I remember reading that McNally had written the play with Caldwell in mind, and after seeing it I understood why.
Judy McLane, who has been seen in Off-Broadway's "Johnny Guitar" and national and international tours of "Into the Woods" and "Joseph and the Amazing Technicolor Dreamcoat," can currently be seen on Broadway in "Mamma Mia!" www.judymclane.com.