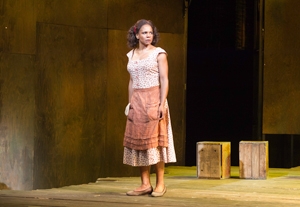 Audra McDonald in "The Gershwins' Porgy and Bess" utterly gobsmacked me. I was particularly impressed with the scene when she was on the island alone with Crown, the big bully whom she has left to be with Porgy. She knows she shouldn't still want Crown sexually, but she does have sex with him. That is ferocious to me in all of the greatest ways. She was so delicious and frightening and uncomfortably sexy. She didn't make any apologies for that character, who makes some really questionable choices. You could almost read her thoughts and feelings. It was as if Bess were saying, "That man over there, Crown, is bad for me and I don't know how to walk away from him and I don't know if I deserve better." She embodied that so brilliantly.
The biggest aspect of her performance was how all-encompassing it was. She very much puts across the notion of a person facing two choices. She knows one -- Crown -- is the worst thing in the world for her, and she can't help herself. The other -- Porgy -- could help save her. But it's so hard for her to say, "Save me." None of those words are ever said in the show, but it's all there in her performance. It's a very human emotion, and one can identify with it even if you've never lived on Catfish Row or been a heroin addict like Bess.
Musically, everything that comes out of her mouth is impressive. When I saw her after the show, she said to me, "Oh my gosh, I didn't know you were here." I answered, "What? You were going to be better?" It's not possible. Her sound is so glorious. She rides the fence between Broadway and classical. Her sound isn't just that of a beautiful soprano singing the score; there's also this raw meat underneath what she sings. The passion with which Audra sings and the layers that she brings to it are just so special. It was an utter thrill to see her and the rest of the cast. When they all opened their mouths as one, I thought, "Oh yeah, that's singing. Just beautiful."
Julia Murney is currently in the Vineyard Theatre's development lab production of John Kander's "The Landing." NYC theater credits include "Wicked," "Lennon," "The Wild Party" (Drama Desk nomination), and "Time and Again" (Lortel nomination). On TV, she's been on "30 Rock," "Brothers and Sisters," and all three "Law & Order" series.