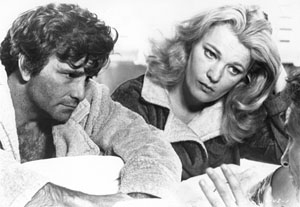 Gena Rowlands doesn't seem to be acting in "A Woman Under the Influence" there is no vanity, no self-consciousness, no approval seeking. At times, her performance as Mabel Longhetti is as ugly and clumsy as an actual life—so nakedly real that it hurts to watch. I remember staggering out of the San Francisco revival house in 1992 and thinking I had seen the greatest piece of acting ever captured on film. I still think so.
There's a scene where Mabel asks a stranger on the street for the time and is flatly ignored. Rowlands' quicksilver transition from earnest politeness to hissing outrage is astonishing, terrifying, and hilarious. And then 10 seconds later (after spotting her kid's school bus), she's jumping up and down with such expectant joy that it breaks your heart.
The journey is harrowing. Mabel takes us inside the beating heart of loneliness, and we feel every second of it. But with Rowlands' tender, aching loveliness as a touchstone, it never becomes unbearable. Like all great art, it transcends; it helps us see who we are by telling us the truth (as ugly as that may be). Through her frank and graceful performance, Rowlands teaches us how very hard it is to be a feeling human being.
Justin Tanner is a Los Angeles–based playwright and has written 21 produced plays, including "Pot Mom," "Voice Lessons," and "Heartbreak Help." His TV credits include "My So-Called Life" and "Gilmore Girls." His Web series "Ave 43" is in its third year on YouTube.