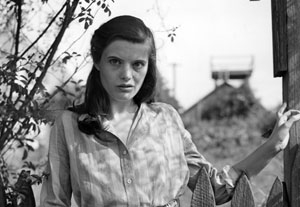 When I was 10 years old, my grandmother, with whom I went to the movies, took me to see "East of Eden" (she didn't believe in sheltering the young). I had already decided I wanted to be an actor, but that was mostly because I wanted to be in a Western and ride a horse and be kissed by the hero, so I'm not sure of the depth of my commitment until I saw Lois Smith play Anne in "East of Eden."  The part is almost silent, but I remember not being able to take my eyes off Anne whenever she was in a scene, and I also remember thinking to myself, "That is what I want to do."
Ms. Smith's performance was simple, perfectly true, and indelible. I'm not at all sure I've come anywhere near that in my own work, but it is still my goal. I was able to tell Lois Smith this story when I finally met her in New York just about 20 years after seeing the movie.
Kathleen Chalfant is a Tony-nominated actor (for "Angels in America") and is closely associated with her work in "Wit" and her role as Sean's Ma on "Rescue Me." She won the Obie, Outer Critics, Drama Desk, and Lucille Lortel awards for "Wit" and a second Obie for Alan Bennett's "Talking Heads."