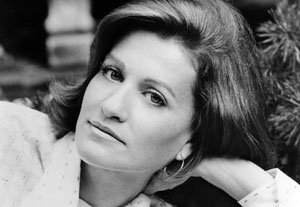 On a trip to New York in the '80s with my classmates to check out what was then called the University and Regional Theater Auditions, I wandered off by myself to see my first New York production all alone. It was a rainy Wednesday and I decided to check out a matinee at the Lucille Lortel Theatre of "Cloud Nine," a play by Caryl Churchill described as "a cautionary expedition into the cuckooland of sexual role-playing." My life was forever changed by that play. It was a hilarious trip filled with all kinds of sexual innuendo and gender confusion.
Now, please bear in mind that this was years before the idea of gender confusion was even discussed in polite society. In the second act, a female character of "a certain age" delivered a deeply touching and laugh-out-loud-funny monologue about discovering the joys of masturbation very late in life. I left the theater mesmerized. I could not get that monologue off my mind. That monologue delivery is what I have used to measure every single theater performance I have seen since. To this day, I walk out of each and every show thinking, "Wow, that actress gave a great performance, but it sure didn't match what I saw at the Lucille Lortel all those many, many years ago." It has also given me strength when facing eight performances a week to never, ever "call the performance in," as I remember the young man from Chattanooga sitting all alone at a Wednesday matinee discovering the magic of New York theater.
Well, imagine my surprise when I booked my first situation comedy in Los Angeles and found out that one of the actresses I was to be working with had become well known for…her performance in a play called "Cloud Nine"! Her name was Christina Pickles, and when we met, I raved and raved about her work. I told her that her monologue about middle-aged masturbation changed my life. We became the best of friends.
Now here's the kicker. I lost contact with Christina, as always happens in this industry once the "project" is over and we move on. But I still sang her praises to anyone who ever asked me about performances that moved me. To make sure that I got the spelling of Lucille Lortel right when writing this piece, I Googled "Cloud Nine" and was amazed to find out that Christina received all her accolades from playing in the Los Angeles production of "Cloud Nine." The woman I saw in New York was Cynthia Harris! And that particular production that I saw was directed by a fairly unknown Tommy Tune, and also starred another favorite actor of mine, the late Michael Jeter. So hats off to you, Cynthia Harris! You changed my life. And to my dear friend Christina Pickles, wherever you are, I wish I had seen you in the play. I bet you sparkled as you raved and raved about the joys of middle-aged masturbation!
Leslie Jordan is best known for his Emmy-winning performance as Beverley Leslie on the hit series "Will & Grace," his five-episode arc on "Boston Public" as the skillet-wielding wannabe serial killer Bernard, and as the Tammy Wynette–fixated female illusionist in the hit cult film and Logo TV series "Sordid Lives." He recently wowed West End audiences in London with his one-man show based on his best-selling book "My Trip Down the Pink Carpet" and will be soon be seen in DreamWorks' feature "The Help."