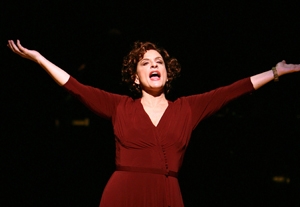 When I was a child, my parents took me to a lot of Broadway shows, and my first memory of one is Patti LuPone in "Evita." I strongly believe that my desire to become a musical theater actress began with that show. Granted, it's not what you would think of as the favorite show for a 7-year-old. It's a bit intense, but it made me want to get into the theater. I remember her being amazing and the coffin with her in it going down the aisle. I also remember thinking, "I want to do that! I want to be that!" I had seen other Broadway shows, but this was the first one that inspired me to say, "Oh, I am in this. That woman is amazing."
Then, many years later, after I had done "Hairspray" and was about to give birth to my son, I came back to New York and saw Patti in "Gypsy." Once you've done a few shows and seen behind the curtain, you can get kind of jaded. The theater seems less like Narnia. I didn't know if I would ever be able to come back to Broadway. But Patti's performance was the first one since Bebe Neuwirth's in "Chicago" that just blew me away. I couldn't breathe. It truly made me say, "I want to do musical theater again. I'm always going to want to do musical theater."
After the show, I went backstage and asked Patti, "How do you do it?" I knew she had a child and wanted her advice on being a mother and an actress. She said to me, "You just wrap your baby up like a baked potato and take him wherever you go." I thought, "You know what, you're right." I will never forget that moment because when you're involved in theater, you can forget the fantasy and the love you have for it that you had as a child. Watching Patti brought it back to me. Even thinking about it now chokes me up. She brought back my love for the craft. So it was full circle for me with Patti.
I remember when she was singing "Some People," I thought, "Oh, shit, this is awesome. This is what I want to do." I felt like I was 15 again and totally forgot that I had done a Broadway lead and won a Tony Award. Four months later, "Hairspray" was closing and the producers wanted Harvey Fierstein and me to come back to the show and play the closing performances. I knew I had to take this opportunity. My son was a few months old and I remembered Patti's advice, so I wrapped him up like a baked potato and took him with me.
Marissa Jaret Winokur won Tony, Drama Desk, and Outer Critics Circle awards for the original Broadway production of "Hairspray." She hosted Oxygen's "Dance Your Ass Off" and will be seen as a regular on TV Land's "Retired at 35."