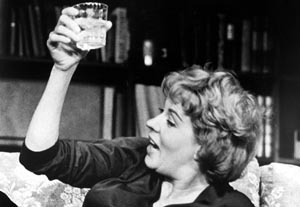 This past year I had the true pleasure of being a company member of the Broadway trilogy "Relatively Speaking," and the experience was a thrill—as being onstage always is. There's nothing that makes you as alive as live people in a theater. It keeps your blood pumping and inspires you to be on top of your craft.
The only downside of playing almost every night is that you have to miss so many wonderful performances by fellow actors all over town. When I'm not in a play I go to the theater a lot. Young or old, actors learn from each other. It's exciting to watch other performers slide into the skin of a living, breathing character. Witnessing them make the transformation and taking the audience with them on their journey is second only to doing it yourself.
Some of those journeys you never forget, like
Uta Hagen
's landmark portrayal of Martha in the original production of Edward Albee's "
Who's Afraid of Virginia Woolf?
" Martha is one of the all-time grueling roles for women. She's loud and angry and sexy and fiercely competitive. You could see every bit of that in Uta's face and body as she stalked across the stage like an animal let loose. It was in her eyes; you could see her constantly thinking and on the alert, as if she was listening for incoming dangers.
I had never before seen an actress work with such an exquisite rawness, and her nuance was remarkable. In Uta's hands, Martha's anger had vulnerability. Her competitiveness had humor. She didn't settle for playing just one emotion; she played two and three and four at a time.
I'll never forget a moment in the play when Martha's husband, George—with whom she's engaged in a ferocious battle over their secret child—reveals the dangerous nature of their relationship. He says, "When you get through the skin, when you get down to bone, you haven't got all the way yet. There's something inside the bone, the marrow, and that's what you gotta get at." It was a chilling moment. Watching Uta's reaction—she stopped breathing, and so did I—I saw her understand that George was taking the game to a different level, and she wasn't sure she wanted to play there. For a short while, Uta's Martha was up for the fight. But George's last punch was a knockout, too hard and too low. You could see Martha's inner strength crumble.
"Who's afraid of Virginia Woolf?" George finally asks Martha after his cruel victory. "I am, George. I am," Martha answers. Those are the last words of the play—and Uta said them so softly and with such crushing resignation that you could feel her total emptiness and fear. I didn't see that coming; I was completely unprepared for Uta's Martha not to fight her way back with the last of what she had. The best theater is that which surprises you, and that's what I felt with Uta's final words: total surprise. I sat in my seat for a while after the play was over. I couldn't get up. She had broken my heart.
Many years later, I read that Uta was doing a master class at
HB Studio
. I couldn't wait to sign up. I'm so glad I had the chance to work with her in those classes and experience up-close her sense of truth and how she looked for it and nurtured it in the scene work of each of her students. And I experienced the depth of her passion for the work. That wasn't a surprise.
Marlo Thomas has appeared on Broadway in "Thieves," "The Shadow Box," "Social Security," and "Relatively Speaking"; Off-Broadway in "The Vagina Monologues," "The Guys," and "The Exonerated"; and on tour in "Six Degrees of Separation." She's done more than 20 films and will be seen in "LOL" with Demi Moore. On TV, her credits include the much-honored "Free to Be…You and Me," "That Girl," and "Friends." She has won four Emmys, a Peabody, a Golden Globe, and a Grammy and was inducted into the Broadcasting Hall of Fame.