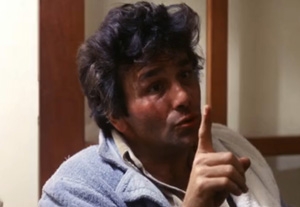 What inspires me is someone like Peter Falk in "A Woman Under the Influence." Occasionally I'll see somebody where I'll think to myself, I could do that. And those are the ones that inspire me. Those are the best performances in my book, as opposed to someone who's doing accents and this and that. For me, it's someone who makes me want to act.
The film is a mind-blowing experience. I was 18, 19 when I saw it for the first time. Gena Rowlands gave this fantastic performance, but it was anchored by this guy who's trying to hold it all together, with Rowlands as his wife. The first scene of the movie, he was at a construction site on the phone to his wife, and he's trying to talk her down. And he's saying, "Who loves ya, baby? C'mon. Who loves ya?" And it kind of set up the whole movie.
Falk is what made Rowlands' performance work because, at least in my case, you felt for him. You don't see those quiet performances now, it seems to me. Those performances have moved to TV. I wasn't worried about [Rowlands' character]. She gave a beautiful performance, but she was doomed, almost. And he was this guy trying to hold his family together. Especially when he hits her at the end. My God, I felt for him more than anyone else. He's trying to make this thing work. That was the most beautiful scene I've ever seen.
Seattle-based monologuist Matt Smith will be seen in the upcoming solo show "All My Children" Aug. 14-26 as part of FringeNYC.