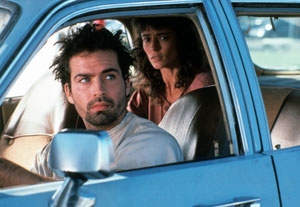 Jason Patric was so amazing in "After Dark, My Sweet" that I watched the film, left the auditorium, went straight back to the box office and bought another ticket for the next performance. He was that good.
Rarely has a film actor created such a vivid, complex character at such a young age. His command of cinematic language was towering, but it was his stillness and sense of danger that mesmerized the audience I saw it with (both groups). Here was our Brando, our Dean, our Clift, all rolled into one: sensitive and powerful, simple and complex, frightening and childlike. He was bruising in the boxing ring, tender in the bedroom, and carried a cloud of sadness around like the rumpled paper bag full of his belongings that he tucked under one arm.
The film itself is based on a pulp novel, and while stories and characters derived this way can often be one-dimensional types rather than real people, it is not so in Mr. Patric's hands. This tough guy will break your heart. Literally.
Measure this characterization alongside any other great one in cinema and it still stands tall. I feel lucky to have seen it on the big screen and believe that my understanding of both film and life was broadened by this actor's work.
See this performance before you die. It's worth it.
Neil LaBute is a playwright, screenwriter, and director. His film credits include "In the Company of Men" and "Possession," and among his plays are "Bash: Latter-Day Plays," "The Shape of Things," "Fat Pig," and "Some Girl(s)."