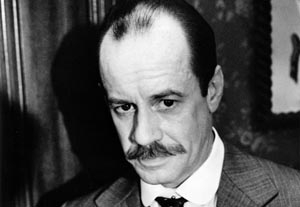 Early in my talent representation career I worked for a personal manager to actors in New York City. Yvette Schumer was a genuine, palpable, and strong advocate for her actors. Her taste in clients embraced the core of the acting trade, the old reliable of showbiz: the character actor. When I joined her firm in 1979, she had just signed an unusual, offbeat, neurotic, hilarious, rip-your-heart-out-intense, deeply human, spiritual, troubled yet sober craftsman named Michael Jeter.
It wasn't until a decade after I met Michael that his considerable skills received their proper due on Broadway and then in television and the movies. His work entertained and touched us up until his terribly premature death in 2003. Through the 1980s, before he achieved fame and fortune, Jeter experienced the highs and lows of a genius actor looking for regular work in NYC. In early 1983 he replaced one of the leads in "Greater Tuna," a two-hand, multicharacter piece about a quirky Texas town that played the Circle in the Square Theatre on Bleecker Street. The clearest, most concise memory I have of Jeter playing five or so characters in this goofy show was an ad-libbed piece of business he performed that was so brilliant in its simplicity, let alone its genuine reality, that I can recall it vividly 28 years later.
One of Michael's characters was a 5- to 8-year-old boy named Little Jody Bumiller. Little Jody was Jeter in miniature (Jeter was originally from Tennessee and 30 years old in 1983), and at one point midplay, Jody/Jeter was sitting on a porch while the other character in the show moved the story forward on the opposite end of that theater-in-the-round stage. Jeter had too much skill at his core to contribute nothing to the moment, even when his character had nothing to do but sit. Instead he subtly and brilliantly removed his socks, sat on the ground, and very intently lifted his downstage bare foot to his mouth and proceeded to chew on his toenails—like a curious little boy lacking any self-consciousness. Anyone in the theater could have missed this easily, but I didn't from my second-row seat. Jeter/Jody might as well have been working on a nuclear fission problem, so powerful was the intensity, care, and detail Jeter gave to this Jody bit. This was sort of a metaphor for much of Jeter's career. Was he upstaging the other actor? Sure, but what Michael did never rang false or seemed contrived. His choices always were of the earth and more inspired than directed. It was these gifts that made his performances—be they in "Greater Tuna" or "Grand Hotel"—so deeply memorable.
Paul Doherty has represented actors and actresses for more than 32 years. He co-owns with Ken Slevin CESD: Cunningham-Escott-Slevin-Doherty Talent Agency in Los Angeles and New York City.