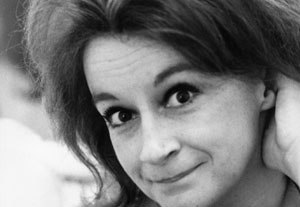 When David Shire and I graduated from Yale, a music publisher offered us his house in Palm Springs for the summer, where we were supposed to write songs. Sounded great. No one told us that Palm Springs in the summer is deserted because the temperature is 110 on a cool day and you can burn your feet walking to the pool. We had driven to California in David's family's Nash Rambler because the seats reclined and we thought we'd sleep in the car. Another bad idea. When the disaster of the summer was over and we were driving back east, I decided that the only way to make the trip bearable was to stop off at the then new Guthrie Theater in Minneapolis, which I had never seen. We called and found that we could make the only performance available if we took turns driving, drove at top speed, and never rested.
We arrived at the theater with half an hour to spare. The play happened to be "The Way of the World" by Congreve, which I had read in college but didn't understand. It starred Zoe Caldwell. There was the famous proviso scene in which two elegant purported lovers banter for 10 minutes. Finally the scene ended and the man (Mirabell) left. Caldwell (Millamant) took a long pause and then began fanning herself wildly. She was not the restrained intellectual adversary she had just been playing. She was in fact so hot for Mirabell, she could barely control herself—and that is what had been going on through the entire previous scene. I was astonished. It was at that moment that I understood subtext, and the fact that what is actually going on in a scene may not be what the words suggest. And that an actor can bring the full passionate life of a character onto the stage just by being a complete person. I even suddenly understood comedy.
Zoe Caldwell, I never met you, but you changed my life. And isn't that what theater is all about, changing the lives of people you'll never meet?
Eleven-time Tony nominee Richard Maltby Jr. won the award for his direction of the musical revue "Ain't Misbehavin'." As a lyricist, his longtime collaboration with composer David Shire includes "Starting Here, Starting Now," "Baby," "Big," and "Closer Than Ever." He co-wrote lyrics for "Miss Saigon" and "Song and Dance," directing Bernadette Peters to a Tony on the latter. "Fosse," which he co-conceived and co-directed, was awarded the best musical Tony. He won a 2007 Christopher Award for his screenplay for "Miss Potter."