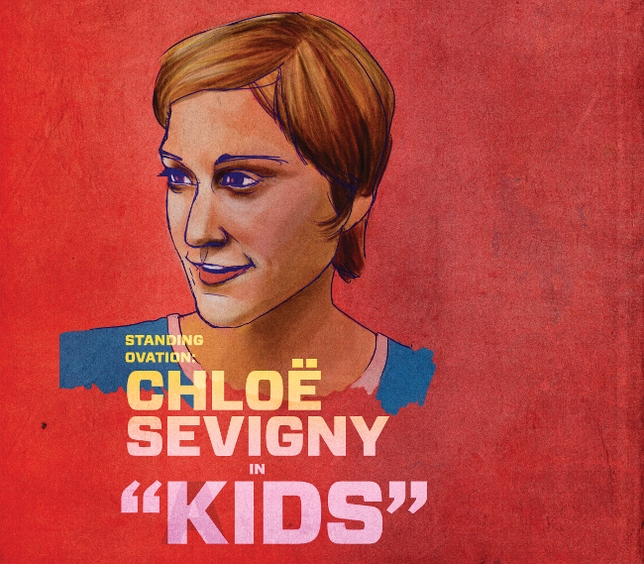 She was only supposed to appear in a single scene—a glorified extra, instructed to aimlessly splash around in a pool. The lead role had been reserved for a "real" actor. But then "Kids" screenwriter Harmony Korine happened upon Chloë Sevigny.
Korine and Sevigny met through mutual friends, grungy skateboarder-types who frequented Tompkins Square Park in the East Village on the weekends. It was there, in the park, that they were first introduced—by a urinal, as he tells it—a serendipitous encounter that eventually landed her the starring role in Korine's controversy-laden docudrama. After meeting Sevigny, Korine and the film's director, Larry Clark, decided that the actor who had originally been cast as Jennie, the lead, would be fired. Sevigny, an unknown teenager with no acting experience, would take her place.
"Kids" marked Sevigny's onscreen debut, but you'd never know it by watching her. In the film's most poignant scene, Jennie appears in an austere clinic. She'd offered to escort her decidedly promiscuous friend, Ruby (Rosario Dawson), to take an STD test. Slumped against a corkboard adorned in contraceptives, Sevigny fumbles nervously with the trim of her blouse. She looks like an Edie Sedgwick reincarnate—a boyish haircut and an anxious, doe-eyed stare. The nurse spews a series of questions about her sexual history: How many people have you had vaginal intercourse with? (One.) Were you protected? (No.) Have you ever had anal intercourse? (No.)
When they return to the clinic a week later, Sevigny is summoned into the office by a nurse, who states matter-of-factly: "Jennie, you've tested positive for the HIV virus." To a 16-year-old girl whose sexual experience up until this point had been limited to a single, seemingly innocent act, it's an incomprehensible diagnosis. "What? I tested positive? But I only had sex with Telly; I just got tested to keep Ruby company…." Her lines are delivered in a perfectly restrained New York cadence, the subtlety of which seems effortless. Blood drains from Sevigny's face as she speaks, leaving an expression so raw and telling, you feel like a powerless spectator watching a live death sentence. There is something undeniably rough-around-the-edges about Sevigny in "Kids"—something that blurs the boundary between herself and her character, making it hard to tell where Chloë ends and Jennie begins.
While Jennie spends the duration of the film on a mission to notify Telly, we watch in horror as he embarks on an all-consuming quest to "de-virginize" young girls. Telly's role begs to be the center of attention, but it's Sevigny who steals the show. Her transformation into Jennie is impressive on a number of levels—most notably her inexperience, but also her upbringing. Despite being raised in the WASPy suburb of Darien, Conn. (a place she often referred to as "Aryan Darien"), Sevigny commands her position as the poster child for an era of hard-living city kids in the '90s.
With "Kids," Korine and Clark set out to chronicle an ostensibly unscripted day-in-the-life of a group of delinquents. When the resulting project was released in 1995, it earned an NC-17 rating. Critics lambasted the film. They called it lascivious, pornographic, and exploitative. It could have easily been written off as a tasteless, low-budget flop, but "Kids" ended up painting a shocking portrait of an urban culture riddled with drugs, partying, and teen sex. Sevigny's heartbreakingly authentic performance wasn't just a work of art—it served as a cautionary tale for a generation. Her role in "Kids" might be among the least recognized on her résumé, but it's arguably her most profound.
Lindsay Silberman is a staff writer at DuJour Magazine. She's previously written for GQ, Playboy, and Men's Fitness.