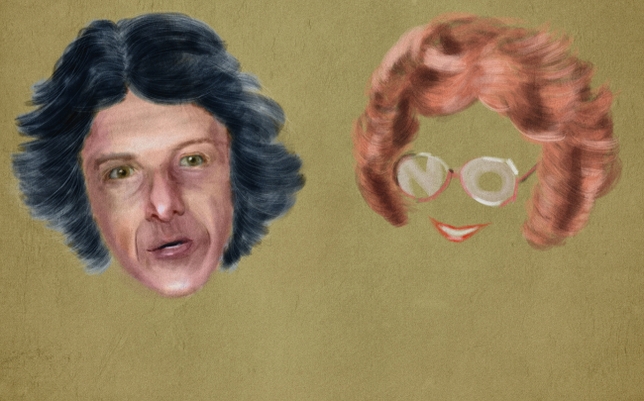 The actor Michael Dorsey has had a long day. He desperately wants to get off the soap opera he's starring in. The woman he's in love with thinks he's a lesbian. The woman's father just proposed to him. Emerging from a cab in a dress, he sees his co-star, an aging, predatory hack, waiting outside his apartment, hoping for sex.
At that moment, Dorsey, played by Dustin Hoffman, says under his breath, in a deeply masculine voice, "Oh, God."
Those two words form a quietly stunning moment in "Tootsie," the movie about an actor who poses as a woman just so he can work. The moment is stunning because for the past 15 minutes, Hoffman has so thoroughly inhabited his alter ego, Dorothy Michaels, even the audience has briefly forgotten that he's really a man.
After more than 30 years, Hoffman's performance—as the maniacal, self-absorbed Michael and the inspirational feminist icon Dorothy—retains its power to awe because of his ability to deftly toggle between two strong-willed personalities and still win the audience's empathy, whether he's wearing pants or nylons.
Hoffman had a lot of help in making "Tootsie" an instant classic when it premiered in 1982. Director Sydney Pollack masterfully manages the breakneck pace without ever losing sight of the stakes. The Larry Gelbart–Murray Schisgal script is perfect.
And the cast is as deep as it is stellar: Jessica Lange won an Oscar, Hoffman and Teri Garr were nominated, Charles Durning and Dabney Coleman could have been, and Pollack redefined and enhanced his career with a winning performance as Michael's agent, George.
But one of the greatest comedies in the history of American film could have been a disaster—"Ishtar" in a skirt—if not for Hoffman's arresting performance.
His character Michael gets the idea to become Dorothy after a meltdown in his agent's office, where he goes begging for work. His agent reminds him of the time he screwed up a commercial where he played a tomato. Michael, already at the end of his rope, untethers himself from reality: "Nobody does vegetables like me, George! I did an evening of vegetables Off-Broadway! I did the best tomato, the best cucumber—I did an endive salad that knocked the critics on their ass!"
It's one of the funniest moments in a scene with too many to count. But it's not the most powerful. That comes a few seconds later, after George tells his client quietly, "Michael, you're a wonderful actor." Hoffman's voice catches. He looks off to the left and says, "Thank you." Actors will instantly recognize that—that aching appreciation for a droplet of affirmation in a life that requires them to wander a desert of rejection.
Yet it's Hoffman's moments as Dorothy, particularly with Lange, that burn into everyone's memory. Lange plays Julie, an actor on the soap and a single mother. She has taken a shine to Dorothy because she has helped her to stand on her own.
But Julie has just fired her nanny and dumped her boyfriend, and now she's at sea. Dorothy senses this and wants to help her. Julie confesses: "I'm grateful to have you as a friend, and at the same time I've never felt lonelier in my whole life. It's as though I want something that I just can't have. Know what I mean?"
She looks up at Dorothy, who stares into her eyes.
"Do you?" Julie asks again.
Dorothy's masculine nature suddenly surfaces and overrides her intention to nurture. She moves in for the kiss. Julie rebuffs her, apologizes for leading her on, but Dorothy implores, "I'm not the person you think I am.… If you can only see me out of these clothes."
"No, no, no, no!" says Julie, who's saved by the bell. Her father is calling. There's a cutaway to Hoffman, who reveals at least two layers of pain: Julie's rejection of Michael and Julie's rejection of Dorothy. The audience can't tell which hurts worse, and neither can the guy wearing the dress.
No matter your gender or what you wear, it's enough to make you cry.
Andrew Harris Salomon is an assistant professor of journalism at Purchase College, SUNY, and the former national news editor for Backstage.