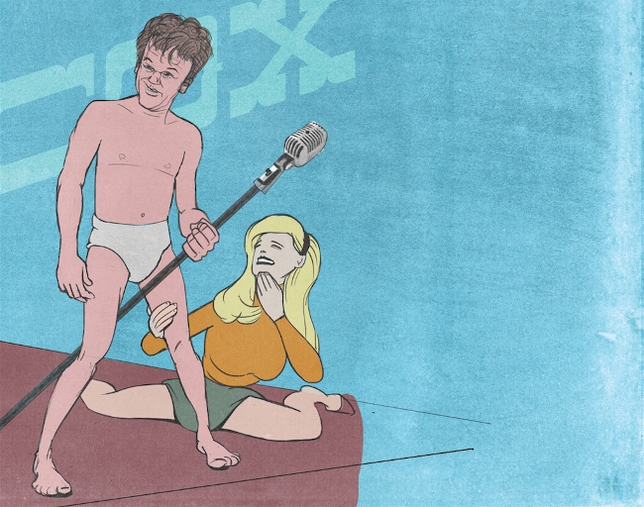 In the mid-aughts, music biopics were the in-vogue Oscar bait. Critically vaunted films like "Ray" (Ray Charles, 2004) and "Walk the Line" (Johnny Cash, 2005) scored Oscar wins for Jamie Foxx and Reese Witherspoon, respectively. A send-up of these self-serious movies was long overdue. So along came "Walk Hard: The Dewey Cox Story" in 2007.
Conceived by director Jake Kasdan and producer Judd Apatow, "Walk Hard" was meant to parody the music biopics, which were often rife with reductive character arcs and cultural clichés. Why bother with deft exposition, for example, if one of your characters can simply describe the cultural turmoil of the 1960s by saying, as characters do in "Walk Hard," "The '60s are an important and exciting time... It's like there's something happening here, and what it is ain't exactly...obvious." John C. Reilly stars as the film's Johnny Cash–like country singer turned superstar, Dewey Cox.
Great comedic performances require a subtlety that comes from keen observation of human behavior. Reilly is a master of nuance, and in "Walk Hard" he plays just over the line into the ridiculous. That skill, along with his work on the film's soundtrack, make "Walk Hard" one of his most underappreciated onscreen achievements.
Reilly's ability to play both dramatic roles (such as his Oscar-nominated performance as Amos Hart in "Chicago") and broadly comedic characters (such as Cal Naughton Jr. in "Talladega Nights: The Ballad of Ricky Bobby") served the layers of "Walk Hard" well. In the film he deftly shifts back and forth between silly and satirical, between dick jokes and maudlin moments—particularly when he recalls how he went smell-blind after he accidentally macheted his brother in half (which is itself an allusion to both Cash and Charles).
Reilly's character, a simple Southern country boy, reaches every step of rock stardom—from scoring his first No. 1 song to going through that "really dark fucking period" in which he handles losing his June Carter–like singing partner, Darlene (Jenna Fischer), with piles of cocaine and a line of groupies. But Reilly retains an expression of dopey innocence throughout, making Dewey Cox a denuded version of a real-life rock star, one completely defanged by the Hollywood film treatment. His drug problem isn't really that bad. In the end, he gets the girl. It's an extra layer of satire that's making fun of other filmmakers as much as it is just being played for a laugh.
There are plenty of jokes built in for music nerds—a "Don't Look Back"–inspired Dylan period (shot in black and white, naturally), during which Cox speak-sings gobbledygook lyrics about fairy teapots, is followed by his Brian Wilson phase, when loads of LSD fuel a grand orchestral masterpiece ("It's still not finished yet. I'm hearing...more aboriginal percussionists. And I want an army of didjeridoos. Fifty thousand didjeridoos!").
Music history footnotes aside, what makes Reilly's performance so enjoyable is his genuine appreciation for rock 'n' roll. The actor sang and played guitar for each of the 40 tracks that were made for the film—a recording process that took more than eight months. The songs had to reflect styles from four decades of music, and Reilly co-wrote a number of them. He performed "Walk Hard" songs for his monthlong Cox Across America 2007 Tour in the lead-up to the film's release. Subsequently, the song "Walk Hard" was nominated for a Grammy.
"Walk Hard" is John C. Reilly's lost gem. The film was considered a commercial flop when it was released, but over time fans will come to recognize the brilliant way it takes the piss out of prestige biopics that bank on the same redemption story told over and over again—the way the actor honors the fictional, but epically huge Cox, demands it.
Heidi Patalano is a features reporter for hyperlocal New York news site DNAinfo.com. She's an entertainment contributor to iVillage.com and former film editor and critic for Metro Newspapers.