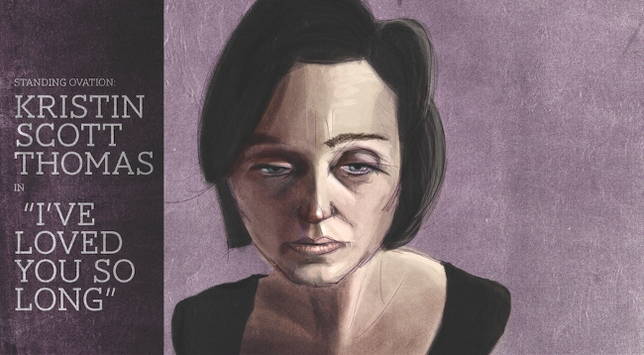 Perhaps I'm generalizing, but I'd say that when watching a film involving infanticide, one doesn't typically expect to fall in love with the perpetrator of the crime. But over the course of "I've Loved You So Long," Kristin Scott Thomas' studied performance as Juliette, a woman adapting to life after prison, wraps us so tightly around the brittle finger of her emotions that, even in light of her curiously horrific act, we become wholly enamored of her. As a bilingual actor who vacillates between English and French identities, Scott Thomas has, with the exception of "The English Patient," been relatively forgotten by American audiences—despite the superlatives gushed by U.S. critics, she was not nominated for an Oscar for her performance in "I've Loved You So Long."
After Juliette's incarceration, her sister, Léa, had been brainwashed by their parents to forget Juliette, to never attempt to comprehend what could have led to Juliette's unspeakable—and highly uncharacteristic—act of cruelty. Now that one parent is gone and the other has Alzheimer's, their spell has been lifted, and Léa welcomes Juliette into her home with tiptoeing tenderness. Complicating matters, Léa is married and, despite being reproductively capable, has two adopted daughters—an unsubtle intimation on the part of director Philippe Claudel that, regardless of her efforts to forget Juliette, Léa conceded to her fear of an heirloom Medea complex. Juliette leaves a permanent mark.
In the first 20 minutes of "I've Loved You So Long," viewers know nothing of the crime Juliette has committed; for a while, we don't even know she's been in jail. In the opening shot, there's just her face revealing that, like an emotional tapeworm, some force has been toiling away to hollow her. Claudel knew Scott Thomas could, would, and had to carry the film—its opening relies on the obstinate joylessness of her face, and the feast of clues her near expressionlessness gives.
"I've Loved You So Long" begs for dueling responses of presentiment and affection to almost every scene, and Scott Thomas drives this machine that runs on viewers' cold sweat and heart-warmed tears. The delicate sweetness of a scene where she makes cupcakes with her nieces is undercut by heavy awareness, on the viewer's part, of the location of kitchen knives. Since the film withholds the nature of the crime until its (SPOILER ALERT: absolving) last moments, it is up to this deft actor to tease our macabre imaginations. In one earlier scene, where Léa's daughter begs to read her a poem, Juliette waxes Smeagoly, bellowing, "I said 'no!' " Her ascetic severity leads us to wonder if the murder was a matter of a personality so weighed down by repression that it snapped. But this doesn't seem quite right: As the film progresses, we're given more and more lovely moments where Juliette reveals wry wit, benevolence, and social ease, suggesting that the person she used to be was fun, blithe, and not so murder-y.
The film takes its title from the traditional French children's song, "À la claire fontaine." Like many lullabies, its use is to induce sleep with a guileless melody while gently teaching the hardships of adulthood—it tonally mimics childhood while verbally euthanizing it. Roughly translated, the song's narrator croons, "Sing, nightingale, sing/ You, whose heart is gay/ Your heart is prone to laughter/ Mine is prone to tears," noting how the pain of lost love has alienated them from even the purest forms of beauty. This song, which Juliette teaches her niece, lyricizes her struggle to isolate herself from the joy and love around her.
In the final scene, a confrontation between the two sisters is interrupted when someone calls Juliette's name and she replies, "I'm here," then turns to her sister, and repeats, gently, "I'm here." In the hands of a lesser actor, the obesity of significance in this final phrase might have seemed unearned. Scott Thomas, however, has so excruciatingly plunged us into the depths of her absence that her sudden, simple declaration of presence leaves us shell-shocked.
Moze Halperin is a Brooklyn-based writer and performer, only technically living in Queens.