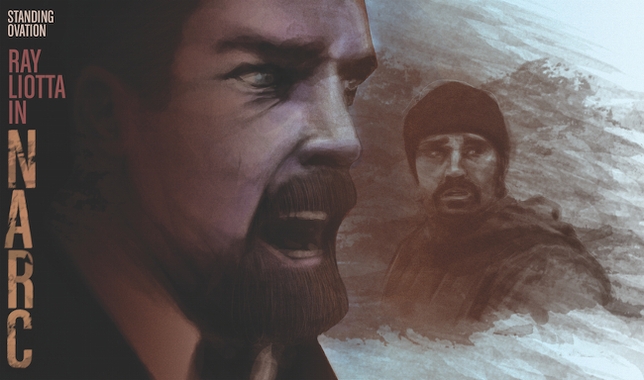 Looking upon the wide filmographic gulf left in the wake of "Goodfellas," Ray Liotta's star turn as Henry Hill, the real-life mafioso who turned state's evidence, didn't exactly do him any favors. Blame that scene-stealing, Oscar-winning wise guy Joe Pesci, perhaps, but being overshadowed can't explain away the string of disposable thrillers, family fare, and other questionable choices that followed. Although Liotta intermittently gave notable performances over the subsequent dozen years (namely in James Mangold's Garden State menagerie "Cop Land" and the flawed yet underrated "Phoenix"), he surprised many with one transformative supporting role in a smoldering police procedural from then-largely unproven writer-director Joe Carnahan.
"Narc" (2002) is supposed to be Jason Patric's movie, and ostensibly he serves as its lead. After portraying a noxious misogynist in Neil LaBute's cruel, confrontational "Your Friends & Neighbors," Patric rebrands as a more sympathetic suspended undercover narcotics cop reluctantly reinstated by the force to help solve the murder of one of their own. His help is contingent on some plot-pushing demands, including teaming with the deceased's former partner, Henry Oak, and the moribund genre tropes appear to lurch to the fore. Yet this encapsulates the ruse of the film's most important character and Carnahan's script, one gratifyingly twisty in ways that made perfect sense in the years following "The Sixth Sense."
An initial glimpse of Liotta's Oak comes in a photo, among the dead cop's personal effects, smiling widely. That good nature is quickly revealed to be uncharacteristic, with Oak soon loading a billiard ball into a thick sock to beat an already bloodied and unsuspecting perp while bellowing threats at his entire family. Moviegoers had no doubt seen Liotta in this mode before, no stranger to the dirty cop drama.
Here, however, was not the actor resignedly yielding to typecast comfort like Al Pacino's honeybaked hamming in "Heat." Graying, goateed, and noticeably filled out, Liotta presents Oak as someone distinct from the villainous psychos of his lesser works. Instead, this incredulous monolith teems with a barely contained rage that starts to make sense not long after meeting him.
Jaded by his tenure in the Detroit Police Department and still grappling with the circumstances surrounding his partner's death, Oak seems precisely the wrong person for the job and, simultaneously, the right one, a contradictory view shared by Patric's character, more or less unfazed by his partner's bad-cop antics. Even as the plot nudges and then compels questions about Oak's motives, he proves sympathetic during the monotony of a stakeout. With Patric seated in the back of the car, Liotta monologues through clenched teeth about the rescue of an abused child, a life-changing moment earlier in his career. Staring through the windshield with stony blue eyes, he concludes, "This little girl being brutalized, little girl being abused has got nothing to do with rules and regulations and everything to do with right and wrong. It's the same thing with Calvess." Oak establishes the existence of his moral code of conduct, or at least a set of values too admirable to be held by a wholly bad guy.
Eventually, the whodunit comes to a head, and Oak's unhinged fury spills blood and tears in a robust third act. When the two partners reach their inevitable confrontation, Liotta channels the right-wing cinema antiheroes of Charles Bronson and Clint Eastwood. Wide-eyed and manically irrational, he roars, "How long after I left did you let those liberal stories in you spill out all over the fucking floor?" This battle of convictions has no obvious victor, and the first-time viewer's affiliations should rightfully change on a dime over the course of some gutting reveals akin to a Shakespearean tragedy, one where even the best of intentions have consequences.
Gary Suarez is a music critic and writer whose work has appeared at Noisey, The Quietus, and SPIN, among others.