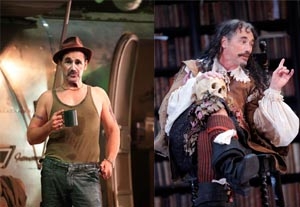 When I was in college back in the '50s, Eugene O'Neill was my favorite playwright. So, late one summer in 1957, I hitchhiked to New York and was fortunate to see "Long Day's Journey Into Night" on a Monday evening, and "The Iceman Cometh" the following Tuesday. Frederick March as James Tyrone and Jason Robards Jr. as Jamie gave the finest two performances I have ever seen in those respective roles. The following winter, I came back to New York and got to see one of the greatest actresses I have ever seen in my life, Kim Stanley, in "A Touch of the Poet." Over the past 51 years, I have seen some very fine work—on and off Broadway. My tally of favorites might very well be endless. Frank Langella certainly stands high on my list, as do Alfred Molina, Mary-Louise Parker, and Cherry Jones.
Nevertheless, there is one actor who, in my opinion, epitomizes what has made all the other strong work I have seen throughout my lifetime truly memorable.
Mark Rylance is an ideal example of what a stage actor should be. Not only is he truthful and courageous in his own character development (as well as superbly trained—both physically and vocally); he is also generous and supportive to the actors with whom he works. Nothing exemplifies this more than his tour de force performances in "La Bête" and "Jerusalem," as well as in 2008's "Boeing-Boeing."
Rylance's well-honed listening skills and his abstention from dominating the stage (arising, I believe, from a respect for his fellow ensemble members) allow him to create that special shared reality between actors and audience members that leaves all parties involved with a sense of engagement and profound human-to-human connection. Rylance's humbleness, ability to adjust and innovate onstage, and his willingness to be continuously present make his work truly feel like a living interaction (rather than a mere representation). I believe this is what live theater is all about. And it is a joy to see Rylance embody it.
Rylance is arguably the finest actor on the English stage today, and I do not doubt his capacity to claim the American stage as well. I look forward to following his work, and I hope that every aspiring actor and theater enthusiast alike finds the opportunity to witness his current work in Jez Butterworth's "Jerusalem."
Terry Schreiber has been the artistic director of the T. Schreiber Studio and Theatre for 43 years. His first book, "Acting: Advanced Technique for the Actor, Director, & Teacher," is in its third printing, and he just completed his second book, which deals with his many years of producing and directing Off-Off-Broadway.