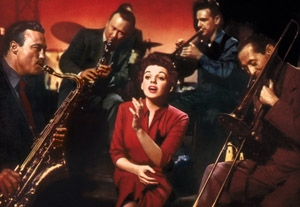 I thought long and hard about the greatest performance I've ever seen because I come from a show business family. I've been attending theater and cinema since I was 2, so I've seen the greatest performances all over the world. I'm from Australia, but I've been traveling since I was a kid. We've lived in England and America in addition to Australia, so there was a huge amount of choice. But I kept coming back to the same two performances. One is Judy Garland in "A Star Is Born," which never fails to exhilarate me and leave me shattered at the end of the film. It seems to be the pinnacle of her career and shows absolutely every facet of her talent. I think it's one of the great unappreciated performances as well.
That was the most logical choice, but I remembered that only once have I ever sat in a theater and turned to my companion at the end of a show and said, "That is the greatest performance I have ever seen." It was in London. "Billy Elliot" had been running for a couple of years. A young man called Colin Bates had just taken over the role that week. I knew nothing about him, and it turned out he was from California. He was the first American to play the part anywhere in the world. You would never have known; he appeared to be English born and bred. His performance simply wiped me out. I remember being in tears for a large amount of it and also doubled up with laughter and thrilled by his dancing. I have seen the Chita Riveras, the Richard Kileys, and the Carol Channings, and in my mind, he beat them all. It was truly a revelation. I have since seen many other people play Billy Elliot on Broadway, in London, and in Australia, but none of them came close to accomplishing what Colin Bates did.
The role makes such demands of the performer regardless of age; he just inhabited it in such a way that it took me totally into that world. He was completely theater wise. He brought a know-how to that stage that was beyond his years. Star quality, I guess, is the expression.
There is something about an unforgettable performance that is based on love. There's something that shines through on a stage; I guess it's somebody's soul being bared on a stage. It's like you're seeing the true person; it's something you connect with as an audience member that goes beyond just acting. I think in both cases that was what moved me, and that's what the greatest acting is: a direct connection between you and the audience. Both Colin and Judy gave me that.
Tony Sheldon was nominated for Tony, Drama Desk, Outer Critics Circle, and Drama League awards and was honored with the Theatre World Award for his Broadway debut performance as Bernadette in "Priscilla, Queen of the Desert." He has played the role for more than 1,500 performances in Sydney, Melbourne, Auckland, Toronto, and London, where he was nominated for an Olivier Award.