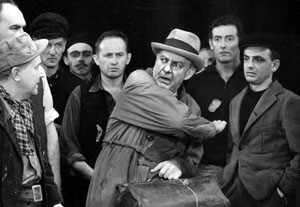 As a young man, during a particularly posh week, I was able to attend a performance of "The Entertainer" starring the renowned actor Laurence Olivier. It was a sensational, bravura performance. Olivier caught the seedy, cheap nightclub emcee perfectly.
I remember vividly a scene in that play where Olivier's character was quite drunk and staggering about the room as he hung Christmas decorations. A ladder stood upstage center. A moment came when Olivier crossed to the proscenium and, leaning his back against it, surveyed his work. As he stared at the Christmas display, he was inspired to begin singing a Negro spiritual. At this moment his daughter entered with a telegram announcing the death of his son, who was serving in the British army. He took a long time to take in the tragic news. There followed a spectacular piece of acting. He began to sing the spiritual again, this time to somehow express his grief. As he sang, he slowly slid down to the floor (his back still against the proscenium). Gradually, he pulled himself up and staggered blindly upstage. After grabbing hold of the ladder for support, he broke down in sobs and then began to vomit. I was amazed at the audacity and boldness of his choices and the power of his effects. After the play and its tumultuous curtain call, I wandered into the night thinking, "What an actor!"
About a week later, I witnessed Alfred Lunt's performance in Dürrenmatt's play "The Visit." My experience at this performance was quite different. For a long time, Lunt didn't seem to be acting at all. We were presented with a very ordinary Swiss shopkeeper (a dull man if there ever was one), no spectacular effects here. I kept wondering, "Well, when is he going to act?"
The play is about a middle-aged Swiss shop owner who, as a young man, had an affair with a young woman in the town and then jilted her. Now, years later, after amassing a huge fortune, she returns to the town and sends word that she wants to see him. He is flattered that after so many years she still is interested in him. During their meeting she announces her decision to give the townspeople an enormous amount of money if they kill him. It is very clear that she intends to have her way.
That night he goes to the train station to escape, but as the train arrives the entire town lines up between him and the train, thus preventing him from getting on it. After the train departs, Lunt is left alone standing on a covered train platform. He grasped a post as he took in his terrifying reality. Like Olivier, he too slid to the floor, began to weep, and then threw up. But there was a big difference between them. At "The Entertainer," the audience wildly applauded Olivier the actor. They were filled with admiration for the actor. But with Lunt, I was filled with empathy not for Lunt but for the poor shopkeeper who suddenly had faced a horrible punishment for a long-ago mistake of a very young man. Olivier had presented an empty, indicated, external imitation. But Lunt had filled his performance with the genuine inner agony that gave birth to his performance. I understood that in acting, no matter how vivid the external form, if it lacks inner content, it ultimately leads to an empty experience.
William Esper has been teaching acting in New York for 50 years. In 1977 he founded the MFA and BFA Professional Actor Training programs at Rutgers University's Mason Gross School of the Arts. He founded the William Esper Studio in 1965 and teaches there today. He is the co-author with Damon DiMarco of "The Actor's Art and Craft: William Esper Teaches the Meisner Technique."