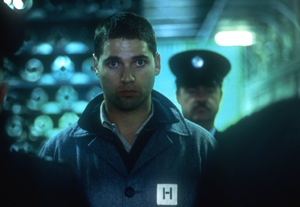 I am sitting in my dusty little changing room on the set of a comically low-budget children's show -- it's a few years ago -- when a fellow actor passes a DVD through a crack in the wood panels between our two stalls, like contraband."Psst. Check this out."
The film's case features a heavy-set, tattoo-covered thug hiding behind aviator glasses and clutching pistols across his heart in front of a jailhouse. The title is "
Chopper
."
I'm supposed to be practicing different ways of delivering scientific jargon so that kids will understand them, but this looks like the kind of film that must be consumed immediately.
Like an addict, I plug the film in. It only takes a single frame to realize this is the stuff. From the film's very first image,
Eric Bana
is completely unrecognizable and wholly irresistible in the film's title role -- real-life Australian ex-convict Mark "Chopper" Read. He utterly inhabits the role, and not a moment passes in which I am not mesmerized by his startling, awe-inspiring performance.
Bana plays a pathologically violent criminal living in and out of jail, but Chopper is unlike any outlaw I've ever seen. He is a hulking mass of internal and outward conflict; the outsider even criminals won't accept. Bana's Chopper is scary because he has no idea who he is. He looks like a gangster but looks out at the world like a boy. He is convinced that no matter how crazy he is, the world is crazier still. The character is so richly conceived -- equally sensitive and depraved -- that long after the film is over, I can't decide if Chopper is villain or hero.
Bana is so devilishly funny that even at the film's darkest moments I'm compelled to look. His reactions are so unpredictable, unexpected, and quick, his ideas so harebrained and childlike, that it all somehow hilariously makes sense. When told someone has put a price on his head of a couple thousand dollars, Bana replies without missing a beat, "Is that it?" Later on, after shooting an adversary in the gut, he immediately proceeds to drive him to the hospital, which he then denies having done. Chopper relishes the fame his criminal exploits bring but instantly feels remorse and shame over the acts. He's the most fragile tough guy ever.
What makes the character unique is that he has no openly stated objective throughout the film. He lives on the open seas of the criminal underworld. There is no grand plan. No big heist, no true love to pursue to the ends of the earth. Instead, there's only an invisible backstory of loss and isolation. With each progressively violent and outlandish act, Bana hints that Chopper seeks to redress his past by gaining attention and respect, in lieu of real companionship. Ultimately, Bana's singular performance reveals that a jail cell is not Chopper's obstacle in finding real companionship but his own inescapable, compulsive rage.
Back on the children's show, perhaps a little jumpier during my scene in which I have to explain how protons behave like bees, I have to breathe deeply to contain the manic energy I now seem to want to add to all my lines. One of my castmates inquires if I'm "on anything."
"Pssst," I say, flashing him the DVD case. "Check this out."
Yani Gellman is starring on the CW's "90210" and ABC Family's "Pretty Little Liars." Other TV credits include "The Young and the Restless," "The Matthew Shepard Story," "Boss of Bosses," and "Children of My Heart." His film credits include "The Lizzie McGuire Movie," "Urban Legends: Final Cut," and "Jason X."