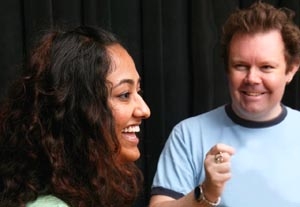 If you're thinking about taking acting classes, "Can I afford it?" is likely at the top of your list of questions, especially in the current economic climate. The answer, according to the schools contacted by Back Stage, is "Probably yes."
Need-Based Aid
New York's Atlantic Acting School (www.atlanticactingschool.org) is a conservatory program that grew out of the Atlantic Theater Company. "Once we have accreditation, our students will be able to apply for loans from the government, which will be fabulous," says the school's executive director, Kate Blumberg. "Until that time arises, we have to be able to offer them some financial aid, because they can't get it elsewhere."
There is no formal application process for financial assistance at Atlantic. Once students are accepted, "if they need aid, they're told to let me know, and we'll generally work it out together," Blumberg says. What determines how much the school will offer? "We really look at the individual's situation. It depends on someone's audition and their particular need. We need people to come forward and say what it is they're looking for, and then we read that application accordingly."
The two aid options at Atlantic are the ones available at most acting schools: scholarships, in which the school offers money toward tuition, and work-study programs, in which the student's tuition is reduced in exchange for a certain number of hours of work around the school. Blumberg says Atlantic's scholarships are offered on a case-by-case basis, unlike schools that have a set number of full or half scholarships available. "What I prefer to do is find out what in my arsenal I can offer, and then scale it out according to different people's needs," she says. "This way I actually can help a few more people."
'
Key' Exchange
The website for HB Studio (www.hbstudio.org), the New York institution founded in 1945 by Herbert Berghof and best known for the master classes taught by his wife, Uta Hagen, doesn't mention financial aid. That's because its classes have intentionally been kept affordable, says executive director Edith Meeks: "It's always been a commitment that we've made to make our classes accessible across the board."
Nevertheless, the school does offer some options for students who need financial help. "We have work-study positions for key students in most of the classes," says Meeks. A "key student" can get a free class in exchange for assisting the teacher. HB also offers studio assistant and foundation assistant positions, in which a student puts in a number of hours of work in exchange for classes. "And then we have a very small number of named scholarships," she adds, "and we offer some scholarship support for our summer intensive every year. It's a little informal, but that's the range."
Starting Early
At the Santa Monica Playhouse (www.santamonicaplayhouse.com), scholarship money is available for students starting at age 4, says Evelyn Rudie, co–artistic director of the 49-year-old California institution. At the theater's conservatory, about 30 percent of the students receive some kind of scholarship. "Anyone who has financial need can apply," she says.
The application process involves filling out a form, supplying letters of recommendation, and being interviewed by a scholarship panel. The interview "is not so much about talent," says Rudie, "because we believe that everybody has talent, but to make sure that they'd enjoy going through the process." She adds, "To be quite truthful, we usually give out more scholarships than we have funding. We want to help as many students as we can."
Young acting students can get a start through the theater's Diversity-in-Education Scholarship Program and choose from numerous afterschool, weekend, and vacation workshops. "We see that the people who participate learn how to get in touch with their artistic voice and walk away from the program with the life skills that we all need when we go into the real world," says Rudie.
One such student is Jasmine Gutiérrez, who started in a workshop at age 9. "I was in grade one, and my teacher recommended that I go to the Playhouse because I was a very shy person and would get very nervous," she says. She continued getting scholarships and worked her way through several programs—to the teen performance lab and then an advanced workshop. She also had the opportunity to tour England and Ireland as a member of the theater's young professional company. Now, as Gutiérrez prepares to go to college in San Francisco this fall, she says, "I've become a more developed person, and I appreciate all the help I got from the Santa Monica Playhouse."
Talent Rules
Alabama native Jake Blagburn is about to start his second year at the Stella Adler Studio of Acting in New York (www.stellaadler.com), which he discovered through the Southeastern Theatre Conference. After completing his undergraduate studies at the University of Alabama at Birmingham, he took three years off and started a theater company with friends. Wanting to further his acting education, he went to SETC.
"The grad schools and the conservatories come and look at you," he says, "and if they really want you and you fit a type that they need, particularly in a university, then they're going to do what they can to get you." Blagburn met with representatives from Stella Adler, which has fielded a distinguished roster of actors and teachers in its 60 years. His audition went well, but "when they asked me to come to New York, I said I don't have enough money to go to school up there," he says. So the studio offered him work-study aid.
Johnny Yoder, Stella Adler's director of marketing, says students enrolled in the three-year and full-time evening conservatory programs can work in exchange for reduced or free tuition. "It's a talent-based thing," he says. After being accepted, "they have to submit letters of financial need, and they come in and interview with our programs director. Obviously, people who are interested should also have some skills as far as the areas we use the students in. A lot of it has to do with administrative work, but there is also production work." The studio also offers flexible payment plans for eligible students.
Blagburn is in class all day and works at the front desk at night. "It just basically exposes me to the faculty and other people who come to the studio," he says. "It beats waiting tables at night, doing something completely off-subject."
Network While You Work
Chon Lee, a work-study student at the Actors Conservatory at East West Players (www.eastwestplayers.org)—an Asian-American theater company in downtown Los Angeles—agrees. "The work part is the most fun for me, because of what I do for the company," he says. In his first year of work-study, he helped out with Studio Lab Projects and fundraising events. "Not only do I feel like I'm working my hours off as part of the commitment for the scholarship, but I also feel that I'm getting to meet and communicate with a lot of people within the East West community itself—actors, writers, and directors and so forth."
Funding for the work-study program comes from the Beulah Quo Endowment for Theatre Education, named for one of East West's founders, an actor and activist who was "continually trying to make things better for Asian-American actors," says Marilyn Tokuda, the theater's arts education director. "She wanted to ensure that actors would not be denied the opportunity to further their craft due to financial hardship." Tokuda says the conservatory offers two full scholarships annually and many partial work scholarships, like the one Lee received, throughout the year.
Students can download a scholarship application from the theater's website. "A lot of it depends on their personal background and what their career goals are and, very important, their thoughts about the importance of arts in their community," says Tokuda. "I can tell right away from reading the applications whether they're serious about it. Be thoughtful about how you answer the questions. I'm not going to turn anyone away, particularly if they want to further their craft."
Says Lee, "I think what made my application successful for the scholarship was how I answered the question which dealt with my ideas and beliefs about Asian Americans in film and television. That was definitely a question where I drew from a lot of personal knowledge, and I was more passionate when answering that question. Maybe that helped me."
Lee's advice for acting students who want to take classes but think they may need financial help: "Don't be afraid or too shy to ask. Sometimes they might not advertise it online or in their brochures or pamphlets, but if they hear about somebody's individual background, there might be an option for a scholarship, work-study, or some kind of discount. I think it's out there, but you have to be willing and open to ask."