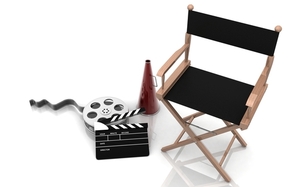 Steven Pressfield says, "What we get when we turn pro is we find our power. We find our will and our voice and we find our self-respect. We become who we always were but had, until then, been afraid to embrace and live out."
Folks, amateur hour is over. Time to step up your game! If you want your content to be taken seriously in an increasingly competitive marketplace, the buck stops with you. Assuming you've only got a few bucks in your budget, here are 4 practical tips to help on your climb to the next level.
1. "Say what?" Take sound seriously. You heard me... Make sure you are getting the best sound possible for your budget! I can't emphasize this enough. Nothing will spoil your next project more than bad audio, especially when it is so easy to do it correctly in a controlled environment. Invest in a decent shotgun mic. Products like Zoom Handy Recorders also work really well on the fly. They have become the standard for low end shoots.
2. Your lens choices might be more important than the camera. Everyone has a DSLR camera these days. But what about a good set of glass? Camera lenses have a significant impact not only on the look of your content, but also on the mood you're trying to create. They help establish depth, object priority and positioning. Opting to go solely with a default lens might compromise your story when you begin composing scenes. Consult your cinematographer, but I recommend having at least 3 lenses on hand to give yourself some visual flexibility: a "regular lens" (a 50mm); a moderate wide angle lens (24-35mm); and a moderate zoom lens (80-200mm).
3. Don't rock the boat. Try a tripod. "It's an earthquake!" Doesn't have to be. As someone who actually likes the handheld aesthetic, I am preaching to myself here. Using "sticks" forces you to slow down, think about the shot, and get the framing right. Knowing that the camera is both secure and in its right place, you are freed up to focus on getting your actors lit. (Not that kind of "lit," Lindsay Lohan.)
4. Confucius say, "Fear not lighting. Hang a China Ball." "But I'm not a gaffer!" Here's a secret weapon to fighting your lighting problems – the "China Ball." This simple, politically incorrect paper lantern gives great diffusion for a bulb. Its sphere shape provides even lighting in all directions. They're perfect to hang (out of the shot, of course) between two actors having a conversation or just to create a nice soft wrapping light source for your main subject.
Matthew Perkins is a filmmaker living in New York City. Follow him on Twitter @_MatthewPerkins