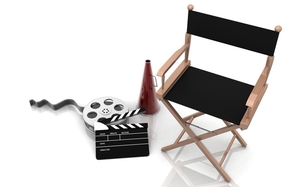 "Filmmaking is a completely imperfect art form that takes years and, over those years, the movie tells you what it is. Mistakes happen, accidents happen, and true great films are the results of those mistakes and the decisions that those directors make during those moments." - Jason Reitman
So you want to be in the movie business? The road to the red carpet is a long and difficult one. It's honestly a miracle that anything ever gets made. Although Hollywood continues to look for a formula, there's not one. Every project has its specific challenges. And happy accidents.
From my experience, these are the things I know to be true.
1. Sound is 51 percent of a film. Remember the importance of good sound and just how much it can add to a scene. Audiences have a higher tolerance for bad video if the sound is good, but never vice versa. Don't put a lot of faith in the sound that a camera natively captures i.e. shooting with a DSLR. Always try to record external sound with a quality microphone.
2. Keep your lighting simple. Find some windows! Using just a few lights sources can easily accentuate what is already there. The less you have, the more you can eliminate shadows going every which way.
3. Location. Location. Location. If you don't have a budget for lighting, it's essential to make sure you don't end up in a location you can't make look good. Say you only have three lights and two gels to work with, consider places with color and lots of available light.
4. Trust your instincts. When you start conceptualizing a film in your head, you may not be able to write a thesis to back up your shot selection. Hopefully you would have watched enough great movies to have filmmaking running through your blood. If this is the case, trust those instincts. Even if it means you'll make mistakes, it can only better you and your innate ability to get the right shot.
5. Embrace your limitations. Believe it or not, limitations can actually be helpful. If you can't fight something, embrace it. There's a lot you can do with your brain when you let go of fear and anxiety. If you are locked into situations that require you to abandon your original plan, make it part of the aesthetic of film.
Matthew Perkins is a filmmaker living in New York City. His first feature, "The Little Tin Man," hits the festival circuit this year. Follow him on Twitter @_MatthewPerkins