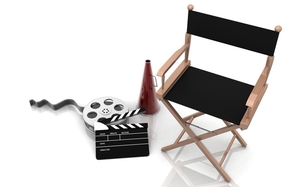 When cinema began, one critic said, "Theaters are the new Church of the Masses – where people sit huddled in the dark listening to people in the light tell them what it is to be human." Watching films in community still has that same effect today. Whether we are conscious of it or not, we go to the movies to escape, learn, and connect with others.
Sure, we all love the multiplex, but as a filmmaker, there's nothing more gratifying than screening your work at a festival. Devoted cinephiles flock to these sacred grounds to see what's on the cutting edge of storytelling. It's a meeting place for seasoned artists and undiscovered talent alike.
I've had the privilege of taking a few shorts out on the circuit. Next year, I'll be hitting the trail again with my first feature, "The Little Tin Man." If you're planning to join me, here are a few tips to consider before submitting:
1. No clichés allowed! Mediocrity will not cut it. This year's Sundance submissions are expected to exceed 12,000. If you want to stand out amongst the crowd, you've got to be an original. Todd Luoto, a Shorts Programmer at Sundance, posted this video to give filmmakers a taste of exactly what they are NOT looking for. I highly recommend watching this before submitting your project to ANY festival.
2. If it's supposed to be a "short," keep it short! Programmers are looking for shorts to fill specific slots. When putting together a block of shorts, they don't want one film to occupy too much time. There are certainly exceptions to every rule, but my safe bet is that most narrative shorts longer than 10 minutes (including credits) are probably in the dead zone.
3. You only get one first impression. Sure, many festivals accept rough cuts. However, try to put your best foot forward, especially as a newcomer. "Lock picture" at the very least before submitting. Programmers do not have the time or creative energy to fill in the gaps of your story. Nor should you expect them to. If the film is not ready, be patient. There's always next year.
4. Watch your film ALL THE WAY THROUGH before sending it in. I know, I know. You've seen your film a million times already, but the final viewing might be the most important. Imagine all of your hard work going down the drain because the programmer is watching a blank DVD. Test your disc in a consumer DVD player, not your computer. Verify the aspect ratio is correct, and that there are no technical blips or glitches.

5. The sweet ain't as sweet without the sour. Even if your film is rejected, keep your head up! Don't take out your frustrations out on other people. Maintaining a positive attitude and healthy perspective helps you roll with the disappointments and not develop a sense of entitlement. Always be thankful for your successes.
Matthew Perkins is a filmmaker living in New York City. Follow him on Twitter @_MatthewPerkins