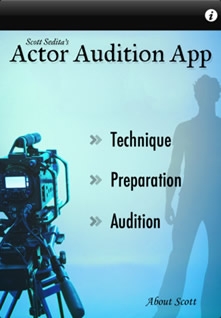 What It Is
Scott Sedita's Actor Audition App
What It Does
Film and TV acting technique, preparation, and scheduling tools in one digital package.
Where to Buy It
https://itunes.apple.com/us/app/actor-audition-app/id500582297?mt=8
What It Costs
$9.95
Can you pack a full class's worth of acting advice into a single iOS download? L.A.-based coach Scott Sedita seems to think you can and has set out to prove it with his $9.99 Actor Audition App, a largely static collection of useful tips about auditioning for film and television work.
Sedita bases the first of the app's three sections, Technique, around his W.O.F.R.A.I.M. system, which he claims "will help you quickly and efficiently break down and personalize any TV and Film audition script." You can tap through each of the letters of the acronym to read a thorough dissection of what it references ("W" for "Want," "O" for "Obstacles," "F" for "Feelings," "R" for "Relationship," and so on), in either a full-length or a much shorter "cheat sheet" format, and learn how to incorporate that into your performance.
The app's second section, Preparation, is divided into a scrollable "list of strong, bold, and clever Intentions," to help you particularize your character; and a breakdown of a physical and vocal warm-up strategy, with a particular emphasis on 20 tongue twisters designed to get your voice going.
Finally, the "Audition" section. It first details 32 "Steps for a successful audition," such as "Download your sides," "Rehearse your sides with someone," and "Whether your audition was good or bad, the only question to ask yourself is, 'Did I do my best?'" And there's an audition "date book" that lets you specify what the project is, what role you're angling for, who the casting director is, and other vitals you'll want to keep in mind; you can then sync the audition to your iOS calendar.
If you've previously taken tons of classes (including from Sedita, whom Backstage named "Favorite Acting Teacher" five years ago), it's good to have such an expansive and compact refresher you can easily keep with you on your phone or tablet. But the closest thing to a true technique-advancement tool is an included practice script and a quiz that tests your application of W.O.F.R.A.I.M. principles to it—and even those don't give you the kind of crucial back-and-forth experience and feedback you can only get from a live teacher.
It's important to remember, then, that this, like all such tools, is ultimately only as good as the training you bring to it. If you're secure in your abilities, and all you really need is a preparation pal who'll remind you to apply the work and discipline you need to succeed, Sedita's Actor Audition App will not disappoint. But because the information isn't quite detailed or dynamic enough on its own, remember that it can never serve as a replacement for a genuine acting course.