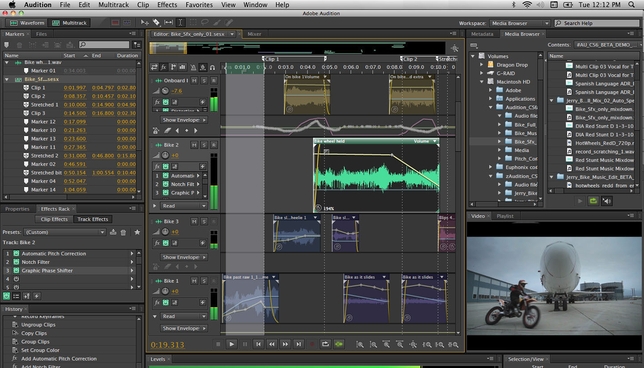 What It Is
Adobe Audition CC
What It Does
Full-featured audio editing program with several new abilities.
Where to Buy It
http://www.adobe.com/products/audition/features.html
What It Costs
New users: Full Creative Cloud suite $49.99 per month; single application $19.99 per month
Full suite upgrade from CS3-CS5.5: $29.99 per month for first year
Full suite upgrade from CS6: $19.99 per month for first year
Single application upgrade from CS3-CS6: $9.99 per month for first year
Student and Teacher edition: $19.99 per month
How good an audio editor do you really need? If all you're doing is stitching together segments for your podcast, trimming or combining music selections into a video soundtrack, or doing basic cleanup on one of your demo tracks, you might think simple is good enough. Heck, Audacity is quite good—and it's even free!
True, but as Adobe has taught us time and time again with Photoshop—including with its most recent Creative Cloud (CC) version—quality and functionality are worth paying for. The same goes with the company's audio editor, Audition. It's a familiar program at its heart, and not everyone will be able to take advantage of everything it can do. But don't write it off, especially in its own new CC incarnation—all those revisions and updates have resulted in serious power, regardless of how you may want to use Audition.
This is particularly clear with respect to the new Sound Remover. In addition to finding and excising from your clip a single example of a sound you don't want to hear, Audition will also scan the entire clip and delete (or at least minimize) any other instances it detects. It's tough to find something else quite this extravagant elsewhere.
More day-to-day practical tools are on hand as well. Have you ever, for example, wanted to implement a certain alteration to part of a clip that would affect the whole thing, only to waste time (and patience) as you keep retrying to get it exactly right? With the Preview Editor, you can check out the full result ahead of time and apply your changes only when you're completely happy with them.
Suppose you want to edit or apply effects to several clips at once? Adobe has revamped its multitrack editing to make that possible. If you need more specialized sounds for your project, design tools like Pitch Bender and Noise Generator will help you achieve them. Naturally, Audition CC has the same benefits of the other CC apps, including online storage and membership in the portfolio service Behance.
More than with most any other tool you're likely to want from CC, however, you'll have to decide whether Audition is worth the cost. It's a top-flight audio editor, but that's all it does—and unless you really need something that powerful on a regular basis, so much so you're willing to endure a monthly subscription to get it, you might be better off with a free or lower-cost solution. It's a winner in any case, but it's undeniably more attractive as part of the larger CC bundle than it is by itself.